December 12th, 2020 16:34 IST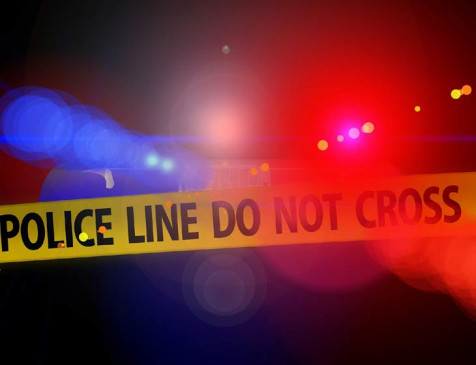 Digital Desk (Bhopal)  Anarchy in Uttar Pradesh is at the peak in the Yogi government. Now the death of a young man in police lockup has once again raised questions on the UP police. It is being said that the young man's fault was that he fell in love with an upper caste girl. According to the information, the family of a man named Sonu has made serious allegations against the police in Khurzanagar police station area in Bulandshahar district of Uttar Pradesh. Family members say that on the intervening night of December 11-12, Sonu died in police custody and the administration then forcibly cremated him without postmortem. 
A journalist also tweeted and wrote that Somdutt of Bulandshahr had absconded a few days ago with his upper caste girlfriend. On 8 December, the family handed over both of them to the police. After this, the girlfriend gave a statement in favor of Somdutt. After this, on the second morning, the police brought Somdutt's corpse and forcibly cremated him.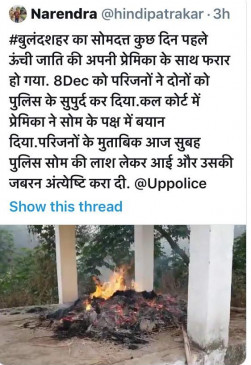 At the same time, SSP Santosh Kumar Singh of Bulandshahr told the media that 'Sonu alias Somdutt, age 28, committed suicide and cremated his body without postmortem in a failed love affair in Kanaini village, Thane Khurzanagar. The matter has come to light. However, the local police say that Sonu had committed suicide and his family members have cremated him in the presence of the villagers. 
Police say that on December 6, a girl from Sonu village was abducted, who was married a day or two later. The two were then arrested and a statement was lodged in the court, where the girl expressed her desire to accompany her family members and no action was taken against the boy. Based on that, the girl was handed over to her family members and the boy was given to her brother Anil and Sunil.