Sambrat Chaturvedi 
| 
Lipi 
| 
Updated: 26 Nov 2020, 12:01:00 AM
Deadly attack on Dalits after voting.
Threatened to forcibly vote in his favor.
One group attacked another group for not voting in favor.
7-8 people including women were injured in the attack.
The injured are undergoing treatment at the state hospital.
Late evening incident on 23 November, case of Buthiya village of Gadarrod police station area.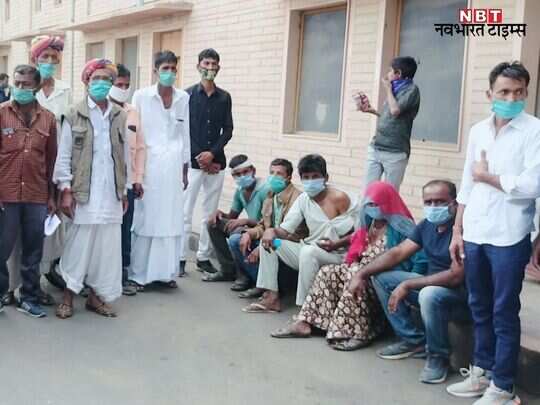 Barmer In the border district of Barmer, Rajasthan, a case of fighting with some people of the Dalit community for voting in the panchayat general elections has come to light. The incident is from the village of Bhutia of Gadarod Panchayat Samiti. The polling for the Panchayat General Election 2020 was held on Monday, 23 November. In this election, some people first threatened them that they would kill themselves if they did not vote in their favor. And then after voting, Dalits returning home were attacked. More than half a dozen people have been injured in this attack.
This attack on these people of Dalit society happened when they were returning home after the voting process. Eight people including 4 women were injured in the assault. The aggrieved side alleges that the attackers first threatened them for voting in their favor, and when they asked to vote according to their choice, they were beaten up and beaten while returning home after voting.
After the entire incident, the aggrieved party has registered a case against 17 people at Gadarroad police station. In the report, the victim told that she was returning home by voting at around 6 pm on November 23, when Habib Putra Bachu, Nabab Putra Bachu, Sumar Putra Aali, Rasul Putra Habeeb, Awas Putra Aali resident Buthia, Mada Son Ramadan, Jimal Son Mada Sabu son Mada, Barkav son Nura, Sheru son Majiz resident Malani's people stopped and beat him. The women were shunned and beaten to shame. Humiliated with racist words. Several people sustained serious injuries in the assault, who were brought to Barmer District Hospital for treatment. The police have registered a case and started investigation.
Dalit leader Laxman Wadera, who arrived at home with an unanimous child in Corona, went home with great fanfare , saying that Dalits still dominate the Dalits in rural areas, even after 70 years of independence, trying to suppress Dalits is. Voting is also not being done independently. On the other hand, Superintendent of Police Anand Sharma said that a case has been registered on both sides. Chauhatan Deputy Superintendent of Police is investigating the entire episode.