Enraged by the state-oppression, activist Soni Sori calls for a pan-India outrage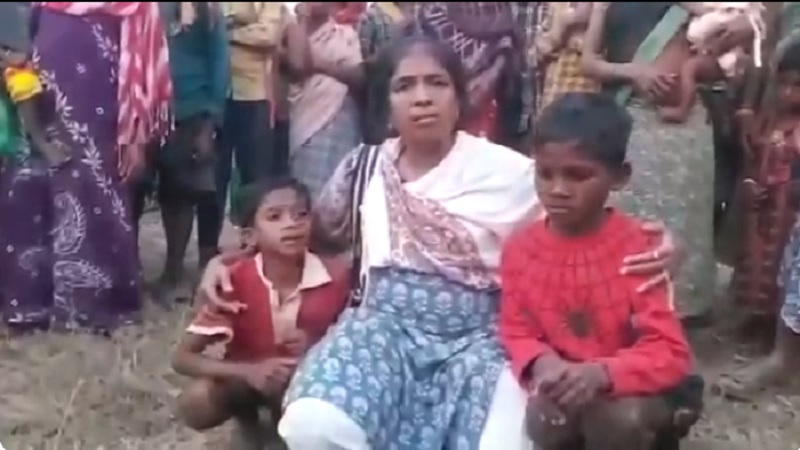 Image Courtesy:Twitter.com
Chhattisgarh's Koya Adivasis in Basti lost 16-year-old Sanum Punem, when army personnel in the area allegedly killed him during what they insisted was an anti-Naxal operations on March 11, 2022. Adivasi leader Soni Sori, nowadays at Gangalur village where the incident occurred, appealed to the people of India to rage against this incident.
On Friday, District Reserve Guards (DRG), COBRA and police officers surrounded the village in Bijapur district, claiming they were conducting combing operations. During this time, villagers say, missiles were fired over villages where children were still playing in the open. Save for Sanum, the children managed to escape the ordeal. Later, residents said that most of these missiles turned out to be duds and continue to lie in the farm lands around Gangalur.
Standing near one such dud missile, Adivasi activist Sori along with two children condemned the ordeal that occurred in the region. In a video message, she said, "All I want to ask India is this – how will we save these children? [gestures at the two boys and then the missile] The police launched these [missiles] at our children. I want to ask you to please save Bastar children. Then the police say these are Naxal. Naxals say this belongs to the police. So to whom do these [missiles] belong to?"
Although Sori sent out an alert on Friday dubbing the situation 'dangerous and life threatening', the incident has drawn little attention.
Meanwhile, in another district Dantewada, villagers preserve the body of 22-year-old Badru Madavli nearly two years after his death. Madavli was killed in a joint operation by the Central Reserve Police Force (CRPF) and the DRG on March 19, 2020. Officers claimed that he was a Maoist. Gampur villagers preserve the man's body in a pit, wrapped in a white shroud and plastic and anointed with herbs, salt, medicinal oil, hoping that authorities will conduct a post mortem and clear the deceased's name. After two years, the body has naturally started decomposing.
While one village mourns the death of a child allegedly at the hands of the police, another awaits justice from the courts.