Staff writer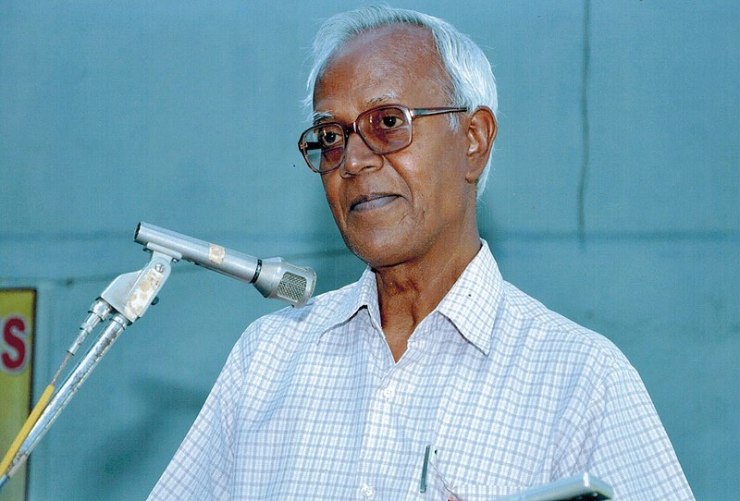 Father Stan Swamy
The demand for justice for Father Stan Swamy continues nearly a month after his death in many places across India.
The 84-year-old Jesuit priest had been detained for nine months under an anti-terror law and denied bail despite his declining health, died about 1.30 p.m. on July 5 in Mumbai's Holy Family Hospital.
He was a human rights activist who fought hard for the rights of the tribal community in Jharkhand for over five decades.
Members of several civil groups, as well as professors and students from various universities in Bangalore, held a silent candlelight march on Wednesday evening, seeking justice for the deceased Jesuit priest.
Following the march, Karnataka Jesuit Province Provincial Father Dionysius Vaz SJ encouraged the participants to "carry forward the legacy" of Fr Stan by demonstrating solidarity with the voiceless and underprivileged.
"Fr Stan Swamy's death is not an end; it is yet another moment of awakening in our journey to affirm our faith in the Constitution of our country. Amidst growing inequalities, violence, atrocities, discrimination, and exclusion in our country, 'not to be a silent spectator is the message that he left for us," said Fr Vaz.
According to reports from The Indian Express, the marchers also asked the Centre to release human rights defenders and undertrial detainees who are suffering in deplorable circumstances in jails.
"Organised by the Jesuit Provincial of South Asia, the National Justice Day event was held to urge the government to defend democracy, to repeal Sedition Law, Unlawful Atrocities (Prevention) Act, and repressive State laws, and to restore citizens' right to dissent," a statement read.
Meanwhile, Catholic communities in Delhi, Ranchi, Kolkata and Jamshedpur also remembered the 84-year-old Jesuit priest on Wednesday marking a nationwide day of solidarity.
Cardinal Oswald Gracias, archbishop of Mumbai and president of the Catholic Bishops' Conference of India (CBCI), called on all dioceses throughout the nation to remember Fr Stan publicly.
According to AsiaNews, Cardinal Gracias sees this as a means to "keep alive in our hearts the desire to work for the poor and the abandoned" just as Fr Swamy did.
Professor Apoorvanand of Delhi University, who spoke at a public gathering at the Cathedral of the Sacred in Delhi Heart, noted that Fr Swamy "did not ask for mercy, but respect for his rights" in prison.
Jerald D'Souza, director of St Joseph's College of Law in Bangalore said, "Some ask us why a priest cannot stop at his pious devotions. They fail to see the greater issues of democracy and the defence of legality; they tend to allow themselves to be misinformed. Others, however, have come here anyway; his death has awakened many."
According to Archbishop of John Barwa Cuttack-Bhubaneswar, Fr Stan's death has "sparked outrage across the country."
"We are not here only to keep his memory alive but also to support his work among the marginalised, especially tribal people," he said, adding that "Fr Stan raised a new generation of people with a deeper sensitivity for the poor."