Various groups marked the day by calling for justice for Father Swamy and for the immediate release of his 15 companions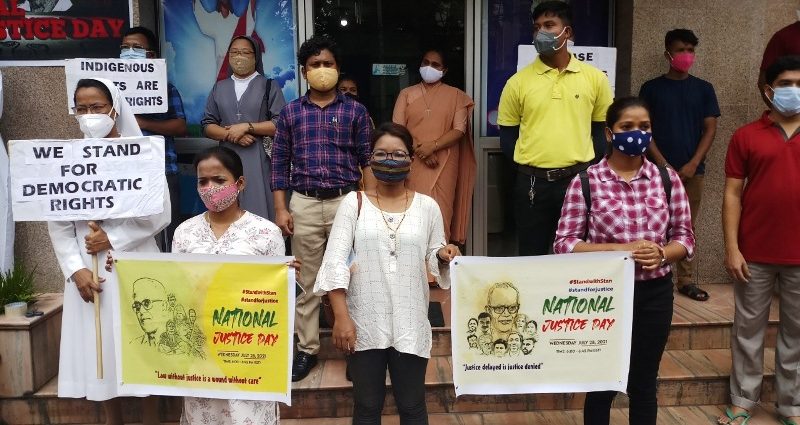 Catholic faithful in India mark "National Justice Day" on July 28 to pay homage to Father Stan Swamy, a Jesuit human rights defender who died while in detention early in July 2021. (Photo courtesy of Matters India)
Christians in India paid homage to Father Stan Swamy, a Jesuit human rights defender who died in detention early this month while waiting for trial, by declaring July 28 as "National Justice Day."
Father Swamy, 84, died July 5 at Mumbai's Holy Family Hospital where he was brought 38 days earlier from the Taloja Jail as a COVID patient.
He was arrested October 8 last year by the National Investigation Agency, India's counter-terrorist task force, from his residence in Ranchi, capital of the eastern Indian state of Jharkhand, for alleged terrorist activities, including an alleged plot to assassinate Prime Minister Narendra Modi.
Father Swamy was brought to Mumbai, some 1,700 km southwest, and sent to jail there. He became the oldest Indian arrested under the Unlawful Activities Prevention Act, India's primary counter-terror law.
The call to observe July 28 as "National Justice Day" came from Father Stanislaus D'Souza, head of the Jesuit Conference of South Asia. The priest urged members of the Society of Jesus in the region to pay their "deep respects to Father Stan Swamy and carry forward his legacy."
Father Swamy's death is "not an end" but a "moment of awakening in the journey to affirm our faith in the Constitution of our country," said Father D'Souza.
He said that the late priest "stands tall today as an icon of justice to the marginalized."
"In his death, he has risen in the hearts of many as a cult figure. Through his lifelong accompaniment of the Adivasis, Dalits, and marginalized communities and by his martyrdom, he has given us a new ethical mandate to be compassionate, to be the voice of the voiceless and defenders of human rights, speaking truth to power," said Father D'Souza.
Cardinal Oswald Gracias, head of the Catholic Church in India, also called on dioceses across the country to observe the day, adding that a memorial service to remember Father Swamy would help "keep alive in our hearts the desire to work for the poor and neglected."
The call received tremendous support and solidarity from individuals, civil society organizations, dioceses, and religious congregations all over the country who called for justice for the Jesuit priest and for the immediate and unconditional release of 15 others who were arrested with Father Swamy.