TNN | Updated: Oct 29, 2020, 09:13 IST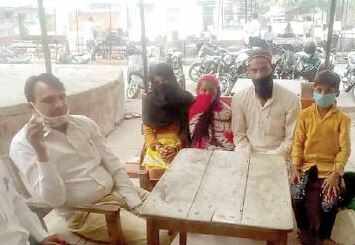 ALWAR: A Dalit family in Alwar district, which was converted to Islam, filed an application in the SC/ST court here seeking to be reconverted to Hinduism as well as action against the person who had a role in this along with protection for the family.
Twenty eight-year-old Memchand Jatav aka Mohammad, who hails from Bhayari village in Alwar, said, "I used to visit Ibrahim ka Bas village in Haryana to meet my relatives. In January 2018, 10 accused had lured me with the promise of land and house if I converted to Islam which I along with my family did."
Jatav said, "On January 29, 2018, the conversion was done and I was given land on which I built a house. However, the accused started threatening me and my family. They also tried to have sexual relationship with my wife. They took us to J&K to complete other formalities of conversion and threatened to kill us if we did not follow their instructions. We somehow managed to escape and come back home. Now, I want protection for myself and my family," said Jatav. He has named 10 persons in the complaint which was filed on October 21 and the court has asked the cops to take the necessary action, claimed his lawyer.
Meanwhile, BJP leader Gyandev Ahuja has given an ultimatum of seven days to the district administration to nab the accused. He said, "There is increasing atrocities on Hindus and despite a BJP government in Haryana, the Hindus are migrating from the villages. This is not a normal situation and if nothing is done then we will agitate."
Jaipur: Reacting on the alleged religious conversion of Memchand Jatav and his family in Alwar, state BJP president Satish Poonia on Wednesday said that the recent case of forcible conversion in Alwar indicates that it's a part of a nationwide conspiracy. "The 'love jihad' matter surfaced in Haryana has questioned the similar kind of activities being run in Mewat area in Rajasthan. The Meo dominated areas have become a challenge for the law enforcement agencies," said Poonia. Party general secretary Madan Dilawar expressed fear that soon Hindu population will disappear from the Mewat area if the administration continues to be a mute spectator. "This incident is another example of deteriorating law and order situation in the state," said Dilawar. Meanwhile, former state BJP president Arun Chaturvedi has demanded police protection for the BJP candidates
accusing the Congress candidates are threatening their candidates. "The fear of defeat has left the Congress to use state machinery in the polls. It is happening right under the nose of chief minister Ashok Gehlot. I demand that all our candidates should be given security," said Chaturvedi. Meanwhile, more than 10 Congress leaders, including its state secretary Satyanarayan Singhal, have deserted the party to join BJP on Wednesday. State BJP president Satish Poonia welcomed 30
Congressmen, including 20 party workers, at the BJP headquarters expressing confidence that they will strengthen the party. The list also includes Bidasar panchayat samiti's former pradhan Santosh Meghwal.