23 Sep 2020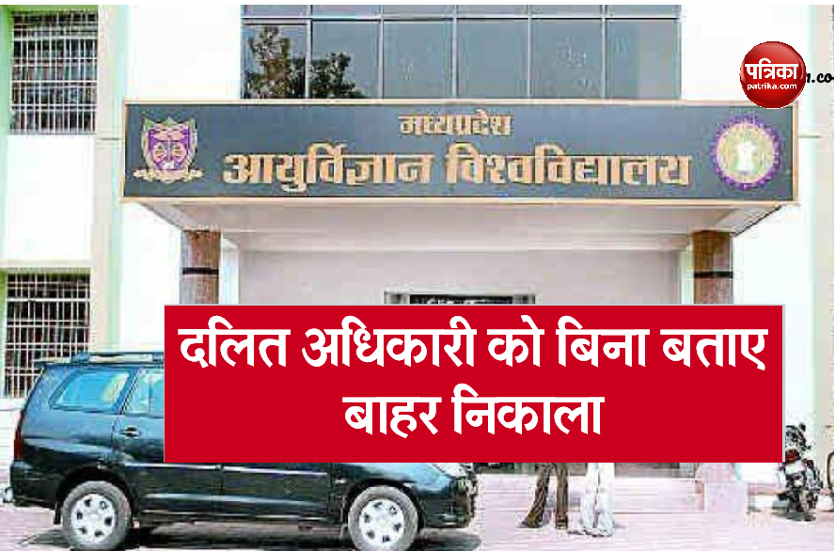 Medical University, Madhya Pradesh Medical University, Jabalpur Medical University Team, Madhya Pradesh Medical University Jabalpur, Colleges Will Join The Medical University Jabalpur, Medical University Jabalpur, Dalit Officer, Dalit Viral Video, Dalit Video, Dalit Solidarity, Anti-Dalit, Dalit, Dalit Attacks, Dalit Agitation, Officer Was Expelled, Expelled Students, Expelled Sp Mlc Udayveer Singh, Pawan Pandey Expelled,
Jabalpur. State Vice President Of Scheduled Caste Tribe All India Confederation Ajay Jharia Has Informed That Sunita Deodi, A Woman Of Scheduled Tribe Category In Medical University, Relieved The Assistant Registrar By Making Unfounded Allegations Without Giving Reasons. The University Vice-Chancellor Is Silent On His Demand For Evidence. The Reason That They Have No Proof In Writing. The Task Of Conducting The Examination And Full Responsibility Lies With The Controller Of Examinations. Also, A Deputy Registrar Khare Has Also Been Relieved In The Same Way. The Chancellor Of The Chancellor Condemns This Act And Demands The Rule To Be Repealed. Ajay Jharia, State Vice President, Confederation, Jagdish Nanhet Buddhist, General Secretary, Sukhdeen Katare, Anil Dhangar, Lakshmi Narayan Gaur, Sukhdev Jharia.
The Confederation Condemns This Function Of The Vice Chancellor And Thus Demands The MP Government To Unilaterally Repeal The Relief Order. MU Ended Deputation Of Two Officers On Delays In Examination – Relieved For Parent Department, Officials Have Sought Evidence From The University On Sudden Action And Delay.
In The Order Issued By The University Administration, Due To Delay In Examination And Irregularity Prevailing In The University, Termination Of Deputation Of Both The Officers Has Been Stated As The Reason. This Order Spread As Soon As The Dissatisfaction Came To The Concerned Authorities. But Asked For Proof Of Allegations Of Irregularity. Sudden Action Without Any Evidence And Notice Told Against The Rules, On The Verbal Instruction Of The Minister Of Medical Education From The University Administration, The Two Officers Were Informed To Issue Instructions To Send Them To The Parent Department With Immediate Effect. Not Satisfied. Stay Tight With This. According To The Vice Chancellor Of The University, Dr. TN Shukla, On The Oral Instructions Of The Minister, Two Officers Have Been Issued Deputation Service And Instructions Have Been Issued To Them To Go To Their Parent Department.