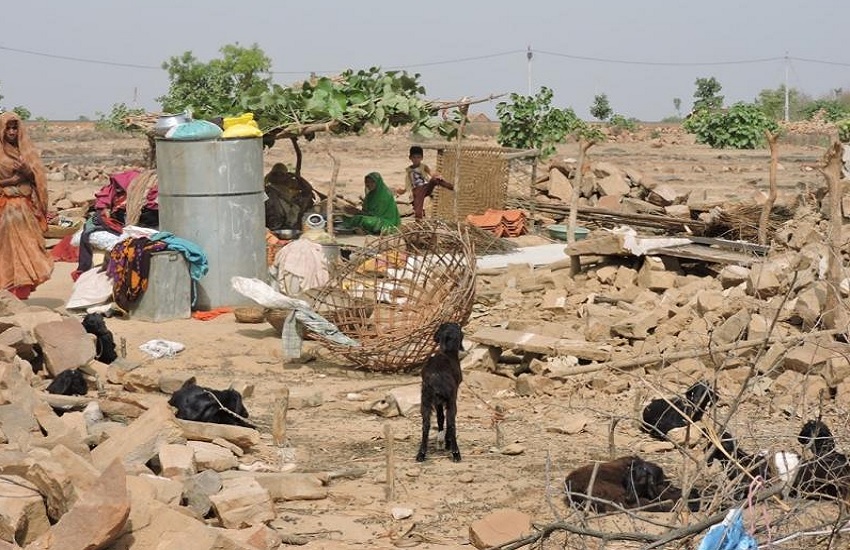 Satna. How Far The Poor, Helpless People Were Provided A Roof During The Rainy Season, On The Contrary, Those Who Had Homes, Have Also Forced The Children, Old Men And Women To Pass Under The Open Sky. The Tribal Family, Who Have Been Uprooted In Compulsion, Are Forced To Live Under The Banyan Tree. They Have Been Wet In The Rain For Three Days, But No One Pays Attention To Them.
The Matter Is About The Forest Land Of Patha Village Under Ajaygarh Development Block, Where It Is Being Told That The Family Of The Bahlia Tribals Lived On This Land. They Had Built Huts For Their Living. But All These Slums Have Been Demolished. The Forest Department Has Done This. As A Result, Poor Fowler Families Have Been Rendered Homeless During The Rainy Season. The People Of The Affected Family Are Forced To Take Shelter Under The Banyan Tree, Along With Innocent Children And Old People, After The Hut Is Destroyed And There Is No Safe Haven.
How Vigilant And Sensitive Are The Officials In The Shivraj Government Talking About Helping The Poor And Granting Forest Rights Pattas To The Eligible Forest Dwellers On Forest Land, The Case Of The Bahis Of Patha Village Is A Recent Example Of This. Despite Having Information About Homeless Poor Fowlers Forced To Live Under Trees During The Rainy Season, The Revenue Officials Of Ajaygarh Have Not Yet Considered It Appropriate To Shelter Or Help Them In A Safe Place.
In This Regard, When An Attempt Was Made To Talk To Ajaygarh SDM Bibi Pandey, He Dismissed The Question Of Questions Related To The Forest Department To Rehabilitate The Homeless Fowlers And Provide Immediate Help To Them. On The Other Hand, People Are Strongly Criticizing The Action Of Removing The Huts Of The Fowlers In The Rainy Season In The Name Of The Action Of Removing Encroachment From The Forest Land. Most Of The People Are Questioning The Timing Of Action Of The Forest Department, Calling It Insensitive.
Fielding Women, Who Fall Under The Category Of Freed Nomadic Castes, Termed The Action Of The Forest Department As Atrocities With Them, Claiming That They Have Been In Possession Of The Said Forest Land For More Than Two Decades. He Showed Himself As A Proof Of His Voter ID Card, Aadhaar Card, Social Security Pension, As A Permanent Resident Of Patha Village. At The Same Time, The Question Is Also Raised That If A Person Escapes From The Village For Some Time In The Absence Of Work, Then On Returning, He Loses The Right To His House Or The Land Occupied. No One Has Direct Answer To This Question.
The Ranger Of Ajaygarh Was Informed About The New Encroachment In The Forest Land, On Which Action Was Taken To Stop The Encroachment. Fowler Families Do Not Live Permanently In That Forest Land, They Come Every Year During The Rainy Season And Then Go Elsewhere. They Are Not Aware Of Taking Shelter Under The Fowler Family Tree. – Gaurav Sharma, DFO North Forest Division