TNN / Updated: May 15, 2022, 12:22 IST
SYNOPSIS
As reports of atrocities against Dalit women emerge from Karnataka and Tamil Nadu, Christina Dhanaraj–writer and co-founder of Dalit History Month (DHM) which ended in April–stresses the need for India to take a hard look at itself in an interview with Sharmila Ganesan Ram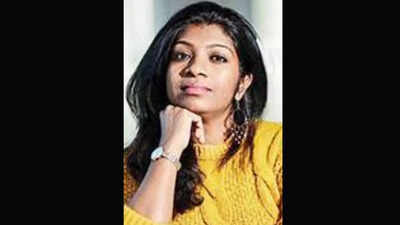 As reports of atrocities against 
Dalit women
 emerge from Karnataka and Tamil Nadu, Christina Dhanaraj–writer and co-founder of 
Dalit
 History Month (DHM) which ended in April–stresses the need for India to take a hard look at itself in an interview with Sharmila Ganesan Ram
Q: How was Dalit History Month born?
A:In late 2014, Thenmozhi Soundarajan, currently the Executive Director of Equality Labs, reached out to me with the idea. I was taken by it from the start. A small group of us began to work on it. In early 2015, it became a slightly larger collective–all of them Dalit women, who partook in writing, translation, illustration, and dissemination. The Dalit History Month project was inspired by Black history month, and was imagined to be a product of collaborative scholarship that would share with the world the legacies of Dalit struggle, resistance, and resilience.
Q: Did you expect the idea to go viral?
A:Personally, I did not.The world was a different place seven years ago. We hardly had any Dalit digital presence. DHM created an audience even as it found its spot in a world that was rapidly becoming politicized, particularly on social media. That said, I understand that many Dalit-Ambedkarite communities..
Q:What's the biggest achievement of DHM?
A: Primarily, it's the internationalization of Dalit resistance. In the last seven years, we have had a massive uprising of Dalit artists, creators, influencers, leaders, and thinkers, who have always existed, no doubt, but it is only now that we get to experience their work in a rich, intimate manner.
Q: What do NCRB figures which indicate that crimes against SC/ST women have continued to rise during the pandemic–tell us about India?
A: That regardless of who is in power, atrocities against Dalit women continued unabated. That India, as a country and a state, needs to take a hard look at itself for its gross indifference and impunity. That young upper caste Indians have a long road ahead.
Q:Does India's feminist movement recognise Dalit women's complexities?
A: If the question is only with regard to feminists that come from dominant and upper caste locations, then it is true that they have not fully understood the complex realities of Dalit women. That, however, does not mean that all savarna feminists have failed us; we have had strong partnerships with many leaders. Secondly, we must recognize that the feminist movement in India is not monolithic. It has women, men, and queer people.The traditional understanding of who is considered a feminist is constantly being challenged, and Dalit feminists, especially the likes of Dr 
Ruth Manorama
 and Fathima Barnard, have been our leaders for years now.
Q:How do you reconcile your caste and gender identities?
A:I vividly remember a moment during college, when a feminist friend of mine asked, what do I primarily identify as–a feminist or a Dalit. I wasn't sure what to say but I felt a bit pressured, so I ended up saying feminist, when in truth I identified as both. In the years that followed, I have tried to be true to myself but navigating these two identities has been intensely difficult. My biggest form of support came from the few Dalit and Black women writers I had access to. Reading Bama and bell hooks (Gloria Jean Watkins) changed my life.
Q:Has there been any change in the status of Dalit women in Brahminical spaces?
A:Dalit women are now becoming more and more inclined towards challenging the caste compositions of mainstream spaces, including the academia, media, and corporate India. We need Dalit women in leadership positions. We need workplaces that are truly anti-caste and equitable, so Dalit women feel safe and empowered within these spaces. We need a body of work that is Dalit-women researched, edited, and authored.
Q:What are some of the micro-aggressions that Dalit women face in cities?
A:Too many to count. A few years ago, I wrote a thread about this on Twitter, and one of the things I mentioned then was round-the-table dinner conversations, in which everyone is asked where they are originally from, but if you're visibly Dalit, that question skips you.
Q:You recently wrote a piece about your sabbatical and miscarriage.
A:I believe I'm quite lucky in that I am at least able to write about it. Dalit women could be going through the worst but because we have been conditioned into thinking that what we are going through is nothing compared to what our ancestors have–thanks to the violence of caste–none of us (including our mothers and grandmothers) has had the luxury or the time to sit with our generational and personal trauma.