Archbishop Emeritus Thomas Menamparampil described the pandemic as a "tragedy of a country" that does not listen to experts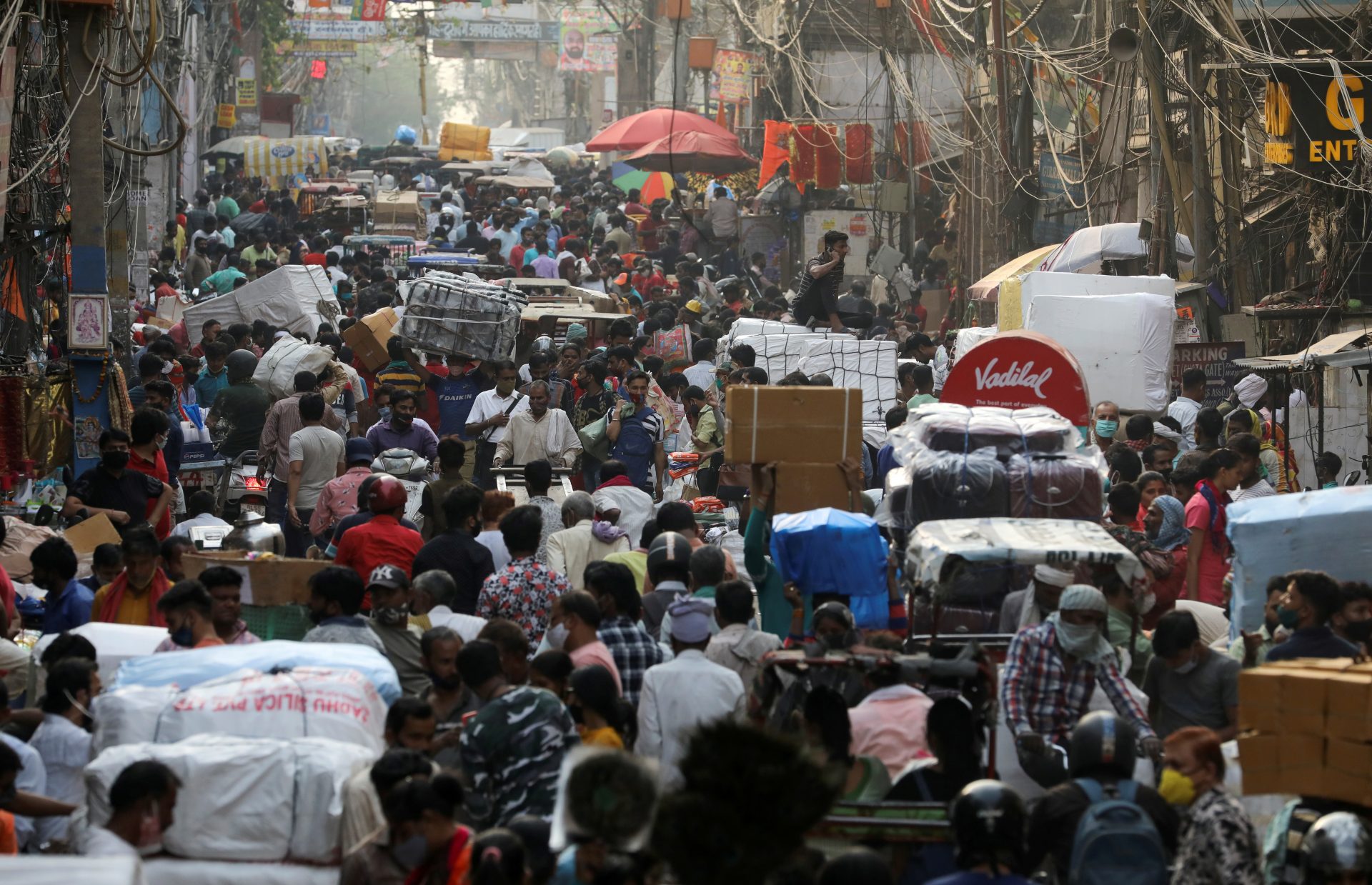 People walk at a crowded market amidst the spread of the coronavirus disease in the old quarters of Delhi, India, on April 6, 2021. (Reuters photo)
A Catholic bishop in India said the "ideology" of political leaders is at the root of the country's "COVID disaster."
"They did not listen to the alarms of the experts. Their political agenda had the upper hand over the protection of the people," said Archbishop Emeritus Thomas Menamparampil of Guwahati.
The prelate described the pandemic in India as a "tragedy of a country that was too committed to its myths to listen to the alarms of experts."
The 84-year-old Salesian archbishop told news site AsiaNews in an interview that the way Indian authorities dealt with the pandemic "was utterly bleak."
On Wednesday, May 12, media reports said scores of bodies are washing up on the banks of the Ganges as Indians fail to keep pace with the deaths and cremations of about 4,000 people a day.
India currently accounts for one in three of the reported deaths from coronavirus around the world, according to a Reuters tally, and its health system is overwhelmed.
Rural parts of India not only have more rudimentary healthcare, but are now also running short of wood for traditional Hindu cremations.
Authorities said on Tuesday they were investigating the discovery of scores of bodies found floating down the Ganges in two separate states.
The seven-day average of daily infections hit a record 390,995 on Tuesday, with 3,876 deaths, according to India's health ministry.
Official COVID-19 deaths, which experts say are almost certainly under-reported, stand at just under a quarter of a million.
Archbishop Menamparampil, former prelate of Guwahati, capital of the northeastern state of Assam, until 2012, said the current situation in the country "is still beyond description."
The bishop said the government's propaganda machine "was too busy ferrying society into an imaginary world of self-celebration."
"They spread the myth of an ancient greatness founded on a legendary past," he said, adding that "opportunists" tag along with the "outlandish narratives simply to please policymakers."
The Catholic Church leader said the "greatness of India," the one that is based on "authentic history," has been damaged by the process.
"By now all official reports produced in India have lost their international credibility even on matters such as economic results, growth statistics," said the prelate.
Archbishop Menamparampil cited the case Father Stan Swamy, the 84-year-old Jesuit priest who was jailed for allegedly committing sedition
Father Swamy was arrested on Oct. 8, 2020, by the National Investigation Agency for alleged links to the banned Communist Party of India (Maoist) and for his alleged involvement in a conspiracy to instigate caste violence.
"Those who are critical (of the government) are accused of sedition," said Archbishop Menamparampil, adding that Christians, a minority in India, must be "very careful."
He said people should question official policies and criticize decisions that can prove disastrous for society, "but at the same time learn to dialogue with the majority community and work in favor of reasonableness and a fair attitude."
"It is not an easy undertaking," said the prelate. "We must carry it out together with all people of good will," he added.
India's second wave of the coronavirus pandemic has increased calls for a nationwide lockdown and prompted more and more states to impose tougher restrictions that have hurt businesses and the wider economy. – with a report from Reuters