TNN / Updated: Jun 19, 2021, 09:42 IST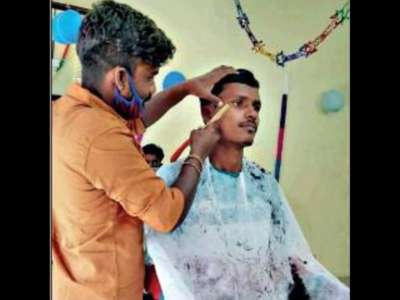 Chakkiliyan community members, being dalits, were not allowed entry into barbershops in Vattavada panchayat in Idukki. The panchayat then built one to put an end to the discriminatory system
By: Thulasi K Raj
In September 2020, Vattavada panchayat in Idukki had set up a public barbershop. This was a significant move by a local governing body in the political history of the state. The reason was, however, unfortunate. Persons from the Chakkiliyan community, being dalits, were not allowed entry into barbershops. They had to travel several kilometres away to get a haircut. The public barbershop was meant to put an end to this discriminatory system. Although the panchayat's response is laudable, this was an illustration of continuing discrimination in the state.
Often, insidious forms of discrimination take place in such spaces, in classrooms and universities, house rentals, hospitals, firms, and businesses. In legal discourse, most conversations around discrimination are focused on the state as the perpetrator. The idea is that the state must not discriminate on the basis of religion, caste or sex, with much less emphasis on how private persons must act in relation to others.
Article 14 of the Constitution proclaims that the state shall not deny equality before the law. Article 15 prohibits the state from discriminating and Article 16 talks about non-discrimination in public employment. Article 15(2), however, does address private discrimination. It restraints private individuals from restricting access to and use of shops, roads, etc. People who face discrimination in certain places can invoke this Constitutional provision to challenge discriminatory actions. Unfortunately, in popular and judicial discourse, Article 15(2) is sparingly used.
Article 15(2) nevertheless has its limits. It does not exhaust the scope of the prohibition on private discrimination. It is in recognition of this fact that two equality bills have been proposed. One bill is drafted by the Centre for Law & Policy Research and another by professor Tarunabh Khaitan and Arvind Abraham. It is high time that the Kerala law ministry considers the proposed equality law. The bills are comprehensive in how they address anti-discrimination. For example, the Constitution prohibits discrimination on the grounds of caste, sex or place or birth, etc. However, there are various features that the Constitution does not expressly lay down, such as sexual orientation, disability, marital status or nationality. The bills integrate these aspects into the realm of anti-discrimination law.
The bills also recognize various kinds of discrimination such as direct, indirect, aggravated discrimination, harassment, and victimization. Therefore, they have the potential to introduce a legal prohibition against harmful social practices. Boycotting persons and targeted violence also fall within the umbrella of the proposal. The bills further impose an anti-discrimination duty on private employers, landlords and service providers, and persons holding significant social and economic power. They provide for civil remedies for the perpetrators of discriminatory practices and grant remedies such as payment of damages, deterrence, and restraining orders, etc. An equality commission is also proposed.
Kerala has been a forerunner in literacy, social reform, and living standards, in comparison with other states, styled as the Kerala model of development. Much of the state's advancement is attributable to its distinct history of social, political, and religious reforms. It has led anti-caste movements and has a communist legacy that is rooted in equity and equality and a tradition of religious tolerance. Anti-discrimination is a value that resonates with our polity.
However, as we saw earlier, discrimination based on religion, caste, or sex is not absent in public and private life. Even today, there are major firms that are reluctant to hire women as employees. Caste discrimination is less strong than in north India but pervades in hiring decisions, promotions, and housing. Last year, there were allegations that only persons from the upper castes are allowed to play the instruments in the Guruvayoor temple. A few years ago, in Perambra, Kozhikode, there were reports of discrimination against dalit children in schools. In the 2021 assembly elections, the first transgender candidate in the state withdrew from the contest due to alleged stigma and discrimination.
These instances show that persons continue to face ostracization and harassment in different forms and levels on the basis of their identities-for being Muslims, dalits or women. The equality bill, if enacted, will make Kerala the first state to have adopted a comprehensive equality and anti-discrimination law. The achievement will be historic and will aid our socio-political reform. It will also be a significant legacy for the current lawmakers in the state for the years to come, for embracing and adequately guaranteeing equality.