Updated 10 October 2020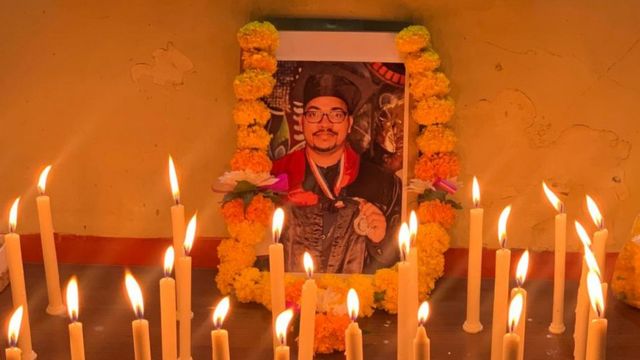 Protests over suicide have started following the alleged ethnic persecution at Jabalpur Medical College of Dr. Bhagwat Dewangan, a 28-year-old medical student of Janjgir Champa in Chhattisgarh.
Family members allege that college seniors used to persecute him by citing poverty and small caste, due to which Bhagwat committed suicide by hanging himself in a medical college hostel. However, the medical college management is denying this.
In this case, the police has started preliminary investigation on the complaint of the family, but no FIR has been filed yet.
Family members have filed complaints against five senior doctors of Bhagwat Dewangan.
Rakesh Tiwari , in-charge of Gadha police station of Jabalpur, who has been investigating the case for the last nine days, told the BBC, "The statements of all the students named in this case have been taken. As of now Kovid has not been able to question many doctors. Yesterday Dean And there is also a meeting of the Anti Ragging Committee of the hospital. We are taking all necessary action. "
Bhagwat Dewangan, was doing PG in orthopedic at Netaji Subhash Chandra Bose Medical College of Jabalpur, Madhya Pradesh.
Dr Bhagwat Devangan's elder brother Prahlada Devangan told the BBC, "My younger brother complained to me many times that his college seniors beat him up and physically and mentally torture him, citing his poverty and caste. The college management was also aware of this but they never interfered in it and my brother was forced to embrace death. "
However , Dr. Arvind Sharma , the warden of the Medical College Hostel and the member of the Anti Ragging Committee of the college, are denying ragging or any type of harassment inside the hostel.
He says that the student who committed suicide had never complained about being tortured in the hostel. Dr. Arvind Sharma said, "The matter of harassment and ragging is related to the department. I have to see which of the students who are accused, who live in hostels."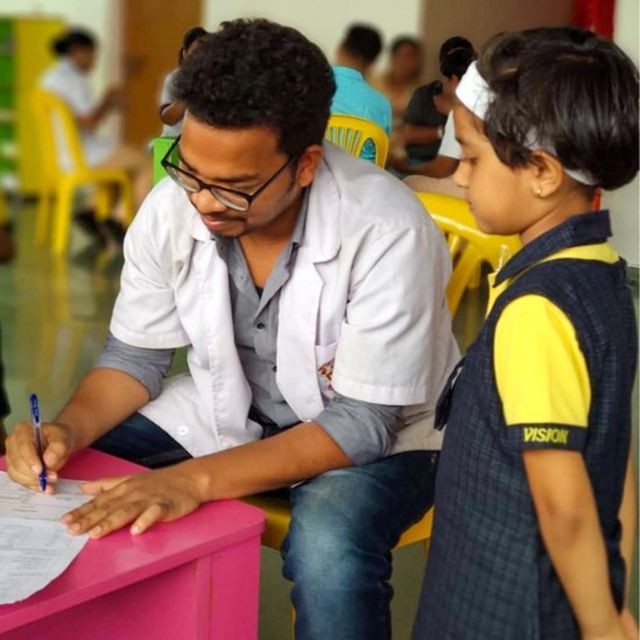 Bhagwat Devangan, a resident of Rahoud, a small town in Janjgir-Champa district of Chhattisgarh, was the second of his four brothers.
There is a small shop selling utensils in the father's town itself. Here people of Dewangan title are found in Extremely Backward and Scheduled Caste, but the deceased doctors used to come from the Extremely Backward Class.
After studying in the local school till the sixth, Bhagwat was selected in Navodaya Vidyalaya, from where he completed his studies up to class XII. After this, he was selected at the Byramji Jeejeebhoy Government Medical College, Pune, from where he studied MBBS.
The relatives of Bhagwat say that they were selected for PG studies in Maharashtra but due to Maratha reservation, the selection list was canceled. After this, Bhagwat took the exam for admission to PG the next year, in which his rank in the country was 5500. Based on this, he got admission in the orthopedic department at the medical college of Jabalpur.
Doctor Bhagwat's brother says that on July 1 this year, a fortnight after admission in the medical college, Bhagwat told the people of the house that his seniors were constantly harassing him.
Says Bhagwat's elder brother Prahlad Dewangan, "He told me over the phone one day that his senior nurse and ward ask him to call him abusively, ask him to beat him up and publicly deny Bhagwat if he refuses to do so Was being beaten. "
Prahlada says that Bhagwat did not take the benefit of reservation and got admission only through general quota. But his meritorious brother was given a taunt of reservation.
Prahlada accuses, saying, "Our family's financial situation was not very good compared to other students in college. We were teaching our brother by managing the money with great difficulties. But the medical college seniors repeatedly He used to tell his brother that he could not study properly because he got admission here due to reservation. He also used to make fun of his financial condition. "
Had attempted suicide before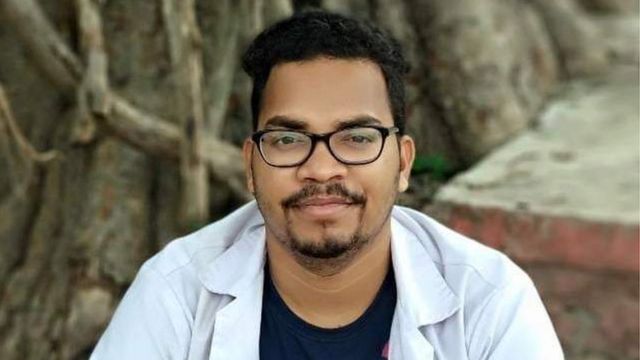 The family explained this to Bhagwat soon, citing all to be well. He advised to tell all these things to the Head of the Department and also to the hostel management.
However, the family members understood the seriousness of the matter on July 24, when a doctor of a medical college told them on the phone that Dr. Bhagwat had eaten sleeping pills. When the housemates arrived in the morning the next day, the doctor was in the ICU of Bhagwat Hospital. There he told that due to the harassment of seniors, he tried to die by eating sleeping pills.
After this, Bhagwat returned to his home with his family after taking leave of eight days. After the end of the holiday, he reached Jabalpur with younger brother Devi Dewangan and joined his duty.
The younger brother Devi alleges that as the persecution continues, one day Bhagwat came to his friend's house in Jabalpur. After staying with the family of a friend for three-four days, he told himself to be sick and took leave from the head of the department and returned to his house Janjgir for a month.
After staying in the house for one and a half months, Dr. Bhagwat returned to the medical college on 26 September. But he did not join duty. The family alleges that Dr. Bhagwat had reached the medical college from home, but the fear of the seniors was so much within him that he was avoiding joining duty.
Family members say that on October 1, a senior Vikas Dwivedi of Bhagwat got a call and he said on the phone that Bhagwat has not yet joined duty and he is not even picking up the phone.
After this, the family called Bhagwat and advised him to join duty. Bhagwat also told him that he had spoken to Vikas Dwivedi and he was about to join duty.
According to Dr. Bhagwat's elder brother Prahlad Dewangan, "His voice made him feel very scared. I tied him up and said that there is no need to be afraid. If there is any kind of problem let me know."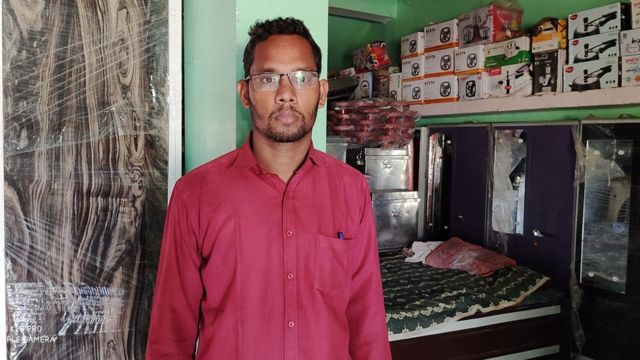 According to the statement recorded in the police, around 6 pm, Dr. Arvind Sharma, the in-charge of the hostel and a member of the Anti-Ragging Committee, told Prahlad Dewangan on the phone that the situation of Dr. Bhagwat is serious, you should reach Jabalpur as soon as possible.
Dr. Bhagwat's elder and younger brother reached Jabalpur at two o'clock in the night, where he was told that his brother had committed suicide by hanging himself. He was shown the dead body kept in the sawmill at nine in the morning.
Prahlada Devangan says, "There were some marks on my brother's throat. I was told that my brother had hanged but I am also doubtful that my brother would have committed suicide. Bhagwat kept telling us again and again. We filed a complaint with the police against all the five seniors who had told them about the harassment. "
However, the accused are denying themselves any involvement in any such harassment. Vikas Dwivedi, one of the accused, said that in the last three months, he has never even talked to his doctor Bhagwat Devangan in any manner.
He said, "I had called Bhagwat Dewangan only once for Sinopsis till today. Apart from this I have never had any contact with him. I am being unnecessarily implicated. I have nothing to say about this. Is investigating. "
Justice for Bhagwat Devangan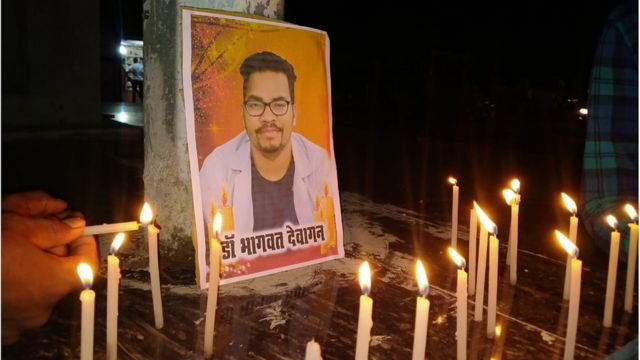 The people of Janjgir-Champa in Chhattisgarh say that the police is trying to postpone the entire matter. Even hostel management is involved in LIPA granddaughter.
The day Dr. Bhagwat Dewangan's body arrived at Janjgir, the people of the city demonstrated for several hours.
After the candle march on Monday, people associated with the Congress party also demonstrated on Thursday evening.
Dilip Devangan, Bhagwat's childhood friend , says, "My friend was very meritorious in reading. We did not imagine his death in this way. We want the culprits to be punished in this case and we get justice. We have for this Justice for Bhagwat Dewangan Campaign has been started. We have planned to send one lakh postcards to the Chief Minister of Chhattisgarh and Madhya Pradesh. "
Chhattisgarh Health Minister TS Singhdev has written a letter to Madhya Pradesh Chief Minister Shivraj Singh Chauhan on Thursday and requested to investigate the entire matter. TS Singhdev says that despite the provision of strict anti-ragging rules and stringent punishment, students are suffering mental and physical harassment due to ragging.
SP Parul Mathur of Janjgir Champa district says that the Jabalpur police is investigating the entire case and we are in constant touch with them. There is no independent investigation in this matter.
High court advocate and social activist Priyanka Shukla , who offered legal help to the family in this case, says that the students of Dalit, backward, poor and deprived society are constantly being tortured but they are not being heard anywhere.
Priyanka says, "When Sushant Singh Rajput dies, the whole country is engrossed in it for months. But there is nothing on the death of a brilliant doctor like Dr. Bhagwat Dewangan. We want our country to be Dalits, poor and underprivileged But still talk. "