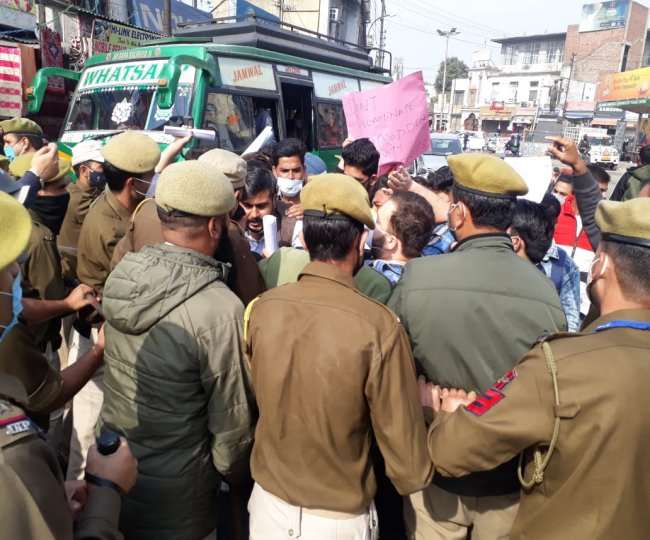 Publish Date:Thu, 12 Nov 2020 01:56 PM (IST)Author: Rahul Sharma
Jammu, JNN. Students of scheduled castes and tribes waiting for scholarship for the last three years today traveled to the secretariat on Thursday. The policemen present there stopped these students moving from Parade Chowk towards the Secretariat to reach their ears. The police officers assured that he would take his word to the administration. The protesting students concluded the demonstration with the warning that if they do not get the scholarship soon, they will intensify the movement.
These students from various districts of Jammu division were arriving here due to their problems. These students started gathering at Parade Chowk from 10 am under the banner of SC-ST-OBC Student Federation. The protesters were led by social workers Vikas Bhadoria and Ajay Lakhautra. 
Vikas Bhadoria told that for the last three years, these students have been going round the social welfare department regarding scholarship. He has pleaded before the administration many times but no hearing was held. Complaints of departmental neglect were also made with the Lieutenant Governor's Secretariat but no steps were taken to resolve their problems. Ajay Lakhautra said that this is not the first time. Similar discrimination has been happening in Jammu and Kashmir with Scheduled Caste-Tribe, OBC, Pahari and other reserved students. Two weeks ago the students submitted a memorandum of their demands to Divisional Commissioner Jammu but they too did not take it seriously.
Troubled by the apathy of the government, today students were forced to take to the streets. As the students started marching towards the secretariat shouting anti-government slogans, the police personnel present there stopped them from proceeding. Angry students protested on the road for about half an hour, shouting slogans against the administration. Students are facing financial crisis due to corona epidemic and admissions in colleges. During this time, at the request of police officers, the students ended their protest with the warning that if their scholarship is not released soon then they can agitate Will accelerate