Anand Dutt

For BBC Hindi, From Saranda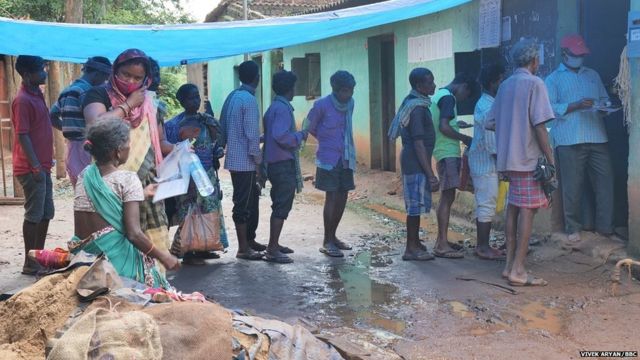 The two-month-old baby is tied at the waist. The mother has an empty bag in her hand. The journey is long and it is raining at places. Shani Hansda is going barefoot, unconcerned by the rain. There are some other women as well. Disabled and elderly also. There are many 'musafirs' in this journey.
For walking barefoot even 30 kms, these families get four kilos of rice at the ration shop according to each adult member.
This is the condition of the Saranda forest area, where on August 30, 2021, the Steel Authority of India (SAIL) has announced an investment of Rs. With this investment, the iron ore extraction capacity of Gua mine in West Singhbhum district of Jharkhand will be increased and the plant will be set up to make equipment to ease the world's troubles.
But no one can claim how much it will change the lives of the people of Cherbalor, Dharnadiri, Kadodih, Lohrabera, Balehatu, Chingridor, Sangadora villages of the area.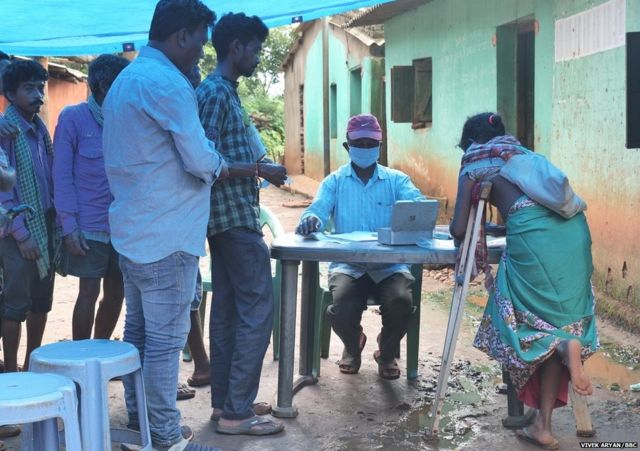 Carlos Mundry, the head of the village's Munda, said, "Everyone will go together."
On the way, he said, "We are going to Karampada. It is 15 kilometers away. There is ration to be received today. Sometimes two months' ration is available together. The dealer sends us a message through someone that the ration has arrived, come Take it. We have started getting ration from the year 2017. Before that even it was not available."
The path on which these people are walking is not as sure as the path of any mine or company. Sometimes one has to walk half a kilometer between the bushes and sometimes the same distance is climbed. After covering a distance of about four kilometres, Dharnadiri came to the village.
More than 50 people are waiting under a tree in Dharnadiri village. Everyone called each other Johar. These people are now moving towards their next stop, Karampada, 11 km away.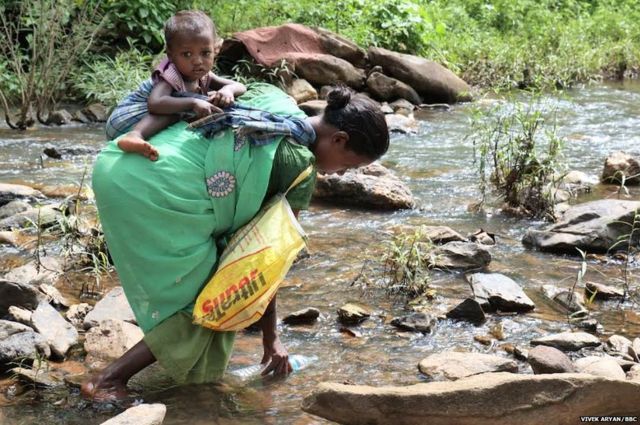 Crossing consists of three or four river -nale
23-year-old Gopinath Jerai of Dharnadiri village has studied till the sixth.
Gopinath said, "On the way we cross three small rivers. During the rainy days, climbing the mountain is as difficult as it is to descend. The people of our village have no work. Only farming and goat-poultry farming It is the only source of income. If they do not go to get ration, then it will be very difficult."
Climbing the hill, Gopinath said, "Two people have bicycles in the village. If one takes a bicycle and goes through the main road, it takes two hours more. Even in that, the cycle has to be carried on the shoulder for more than five kilometers. Because the climb is so high that one cannot ride a bicycle."
The main road that Gopinath was referring to has been built by mining companies. Trucks carrying iron ore pass through this road. The responsibility of security rests with the CISF personnel.
CRPF camps are also built in these forests to fight the Maoists. There are roads leading to the camp.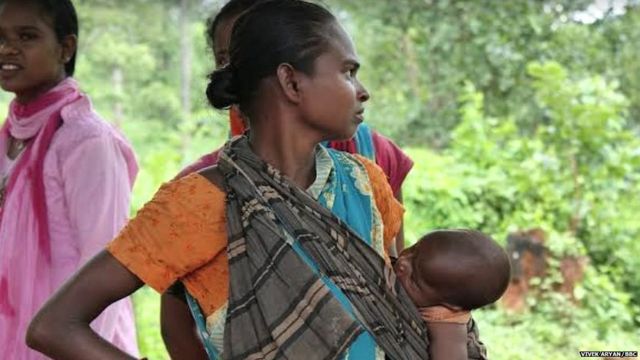 talk less so as not to get tired
Only a distance of five kilometers has been covered and now heavy rain and storm have arrived. Those who do not have an umbrella, they pluck large leaves from the trees and put them on their heads.
People are still walking. After a while the rain stopped and the sun came out.
When thirsty, the women took out the empty bottle. First stirred the water stored in the pit and then drank it after it became a little clear.
It's 12 in the afternoon. This squad of more than 100 people has reached Kadodih village. Here too, about 50 people were already waiting. These people, who have faced rain, storm and sun, are now resting. Sometimes looking at the sky, sometimes an empty bag or sack.
Hirna Samad of Chervalor said, "People talk very little while walking. Because they get tired soon after talking. Women who have a child in their bag, they do not talk at all."
It was decided here that now only Karampada has to stop directly. That is, the journey of the remaining eight kilometers is non-stop.
The journey started and continued till Karampada arrived. It's two o'clock in the clock. That is, a journey of five hours. This is the place where ration for the month is to be found.
The only reason for traveling so far is that the ration shop is 15 km away and no road reaches their villages, so these villagers reach here on foot.
What are the rules related to the distance of the ration shop
Generally, there are certain provisions of the government about the distance at which the ration shop should be. In special circumstances, the state government can also change these rules.
Akash Ranjan, a social worker associated with the 'Right to Food' platform, says, "According to the Jharkhand PDS control order, there should be a ration shop for a population of about 1000. But at the same time it should also be ensured that any cardholder can get three kilometers. Don't have to travel more than that."
He says that the population of these tribal villages settled in Saranda area in West Singhbhum is also very less and the attention of the government department is also less on them.
He says, "Even after covering a distance of 15 km, it is not necessary that everyone should get ration. The biggest reason for this is that the speed of the internet keeps getting interrupted here. Although there is an alternative arrangement when this happens, but people It is said that it all depends on the mood of the ration dealer.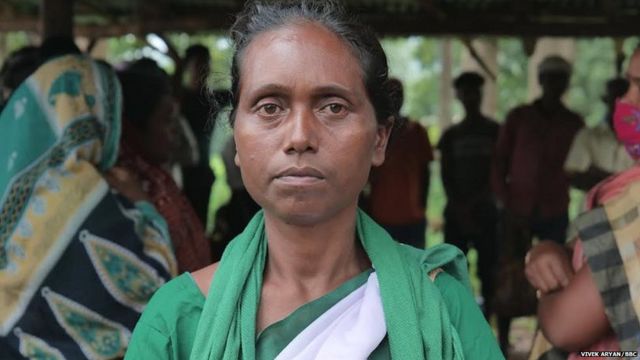 Munda Lako Puriti, a villager of Dharnadiri, did not get ration. According to him, "the dealer said there is no internet, come the next day." Lako has not got ration even for the last month i.e. July.
Desperately, Laco said, "Going home. Will have to come again tomorrow. Sometimes he gives even after cutting the slip, sometimes he says that it will be online. We do not know that much. If we run for rice only for two days, three days When will we run the plow. When will we do agriculture? Tell the government that we are facing a lot of trouble."
Madhavchandra Kunkal, West Singhbhum district vice-president of Akhil Bharatiya Krantikari Adivasi Mahasabha, says, "Network issues keep happening in e-posh machines. Many dealers in Saranda area have 3G SIM cards. They try to convert it to 4G. Even for this, donations are being collected from cardholders only.
He says, "If a cardholder has not taken ration in July and is not given ration even in August, citing network problem, then without fingerprint, his share of ration gets lapsed. The ration that comes in September , part of July is cut in that."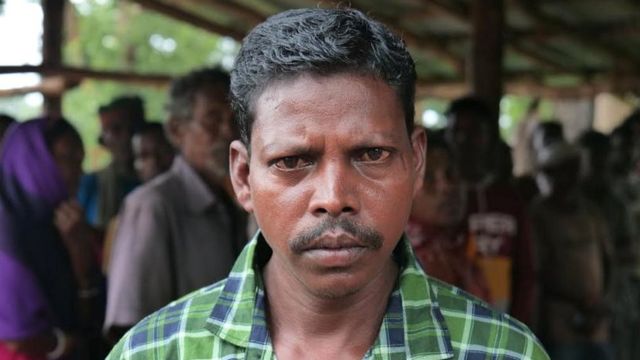 The government accepted that the problems being faced by the people
State Food Supplies Minister Rameshwar Oraon says, "I accept that such problems are in Saranda area. Give me a list of such villages, we will deliver ration to the homes of those villagers under door step facility."
He also says, "If we are bringing an Irish machine. If the dealer is unable to take fingerprints due to lack of network to give ration, then with the help of this machine, he will give ration."
Congress MLA of the area (Jagannathpur) Sonaram Sinku seemed completely unaware of this problem. On the phone, he said, "People have never told about this problem. If it is so, then it is very shameful. We are going to raise it in the coming assembly session."
To avoid this problem, there is an alternative arrangement according to which if some day the e-posh machine is not working due to network problem, then ration is given without taking fingerprints. Finger print is taken on the next day or a few days after that.
But if the cardholder does not come, or if the finger print is not registered with him, then the ration of his share is showing available online. In such a situation, the next month, ration is delivered to that dealer in such a small quantity. Even though he has already given the ration, the dealers want to keep their accounts absolutely right. So he does not want to follow the alternative arrangement.
According to Madhav Chandra, "The second problem is that there are many such card holders whose names of three members in the family were registered on the card and he has updated the name of four new members by registering them, but he has not got the new card yet. In such a situation, the ration of seven people comes from his share, but the dealer gives him the ration of only three people according to the old card.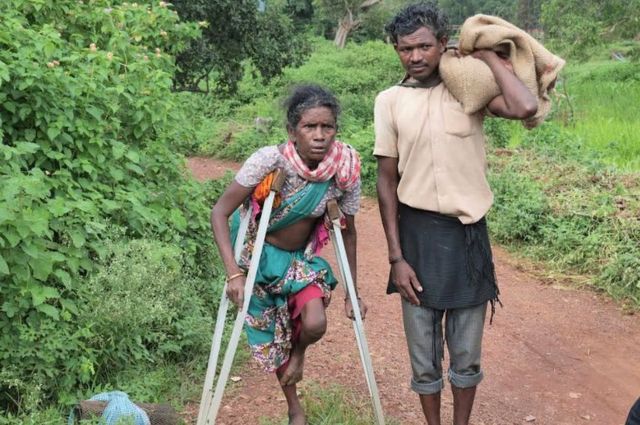 People are getting rice in less quantity
The biggest example of the will of the dealer is that there is a provision of giving five kg of rice in the name of each member of every family at the ration shop. But here the family gets only four kilos of food grains with a slip of five kilos.
Cherbalor chief Carlos Mundry alleges, "Instead of five kilos of rice, we get only four kilos of rice. If we want to get 20 kilos of rice, sometimes we get 16 kilos and sometimes 17 kilos. We have spoken many times but we don't speak that much. They get, they are not able to resist. They bring as much as they get.
According to the provisions of the state government, there is also a provision to give one kg of wheat for every five kg of rice, but these people get it once in a month.
But these people get only five kilos per person, when I asked for information about this from the ration dealer of Karampada, he refused to talk and said that "we have nothing to say about this."
Rice which is available at the rate of Re 1 per kg at the ration shop, its price in the market is 20 to 22 rupees per kg, so it is not very difficult to understand this difference.
Apart from SAIL at present in West Singhbhum district, big companies like Tata Steel Long Products, Shah Brothers, BN Khirwal Mines are doing mining. Tata has been doing mining work here since 1932 and SAIL 1945. Apart from iron ore, manganese is mined here.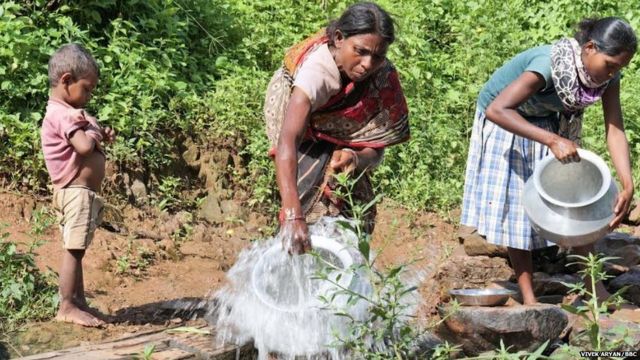 Do tribals benefit from investment?
After all, why do these tribals, settled on a mine of trillions of rupees, struggle so hard for just four kilos of rice?
Twenty-six-year-old Rajesh Munda, a villager of Karampada, says, "When companies take land on lease for mining, they take permission from us. But after getting the land, when they go to ask for jobs, they say that recruitment here is on an all India basis. Is."
"There is no school in our area. When we don't study, where will we get a degree. If we don't have a degree, we won't get a job. Not only this, we also use the road we bring sand, cement to build houses. For this also the permission of the forest department is required.
A survey was conducted by the Forest Department last year, according to which, there are a total of 47 families in Cherbalor village. No one has a kutcha or pucca house in this. All live in huts. According to the same survey conducted in 18 villages, out of 895 families, 613 families live in huts. At the same time, 207 have a kutcha house, 63 have a pucca house and only 12 families have got the benefit of PM housing.
District DC Annay Mittal says, "The villagers were not aware of this difficulty. I immediately find out about it from the BDO, CO of the area. Necessary initiative on how the problems of the villagers can be overcome by talking to the forest department." I'll do it as soon as possible."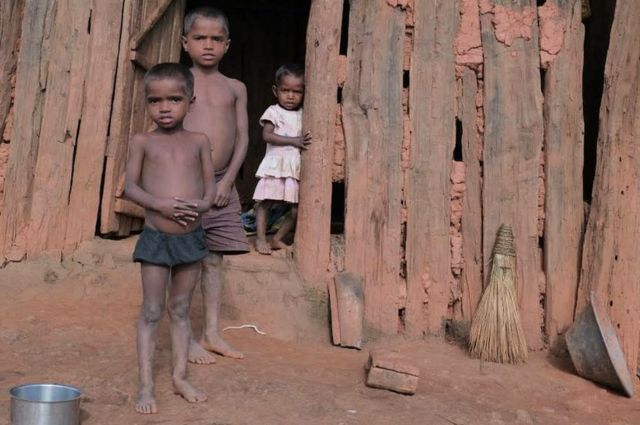 There are many other problems too
Well, this is not the only problem of these people. Mangra Munda of Bangaon, eight kilometers from Karpamda, says, "The toilets have been built in the area with the money of the District Mineral Foundation (DMF), but they have made toilets by digging a pit of three feet."
Ten percent of the royalty received from mining is deposited under DMF in the account of the district in which mining takes place. There is a provision to use this money to build and enhance the livelihood of the people in the area affected by mining.
On July 19, in response to a question in the Rajya Sabha, Union Minister for Mines, Coal and Parliamentary Affairs Prahlad Joshi said, "DMFs have been established in 600 districts of 22 states across the country. These districts are also covered under Pradhan Mantri Khanij Kshetra Kalyan Yojana. A total of 49 thousand crore rupees have been deposited under this till May 2021. In which 23 thousand crore rupees have been spent.
On the other hand , if we talk about Jharkhand , till April 31, 2021, Rs 6,974.11 crore has been deposited. In this, this year's data of West Singhbhum district is not available yet, but in the year 2019, Rs 616.03 crore came in this item in the district. But only Rs 74.96 crore was spent here.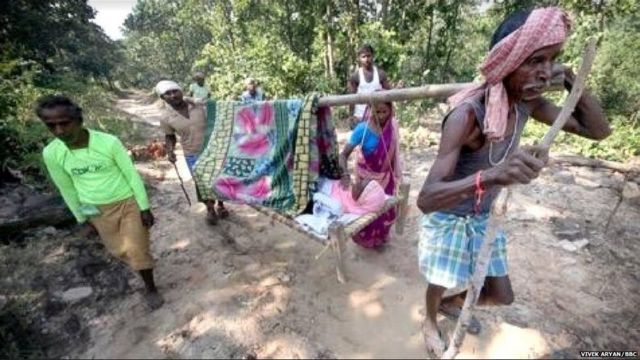 Lily Jojo is an Asha worker. She is in charge of Bunker, Kalaita, Mirchagada and Sagoungada villages. She says, "We do not get an ambulance when someone is sick. On calling, we get an answer that there is no permission to come in that area."
"If the cells run by CSR go to the company's hospital located in Kiriburu Mines, then medicine is not available there. From where will those earning two-four rupees buy medicine."
A senior official of a mining company working in West Singhbhum said on the condition of anonymity that the DMF money is not used in the mining area but is used in the town. The MLAs also get the roads, solar lights approved for urban areas under DMFT only.
MLA Sonaram Sinku once again says, "We have recommended for the road under DMF many times. But the district administration does not pay attention to it. Crores of rupees are deposited in the account of the district, but it is not spent for development. being done."
On the one hand, four thousand crore new investment has been announced and trillions of rupees have been mined till now, and on the other hand the tribals here are facing the struggle of life.
This group of 150 people is returning to their village with their share of rice. Some bags are empty. Some have rice in their bags for a month. Now the challenge is to reach the village before night falls.