Vaibhava pandey| LipiUpdated: 04 Nov 2020, 06:41:00 PM
This incident is of Bundelkhand. Here, a Dalit man of three upper caste people was abused and beaten up. The accused hit him so much that he broke his hand. After this, three people were also attacked in his house.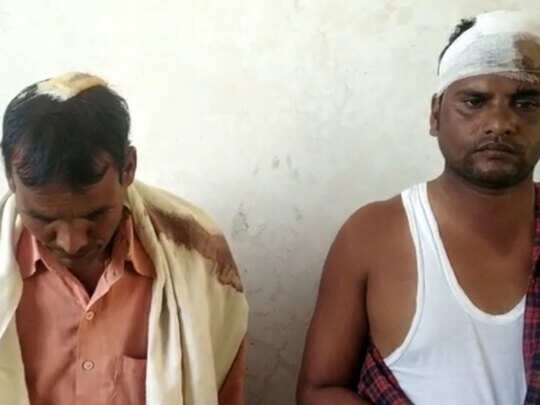 Highlights:
In Lalitpur, UP, the mobs broke the hand of a Dalit youth

The youth drank water from a pot at the shop of the accused

Bullies also beat up Dalit family, three family members injured

Police teams are looking for the accused by registering an FIR
In Kundan Pal, Lalitpur
Bundelkhand, people are still unable to change the old thinking towards Dalits. In Lalitpur district, three bullies beat up a Dalit youth so that his hand was broken. The only mistake of that young man was that he drank water from the accused by filling the pot. After this, three of his family members were also beaten and injured. Police are looking for them by registering FIR against the three accused.
Santosh Ahirwar, a resident of Umaria village of Narahat village, said that he had gone to Manak's shop on November 1. There he felt thirsty, then he woke up and drank water filled with pot from the store. Angered by this, Manak along with his son Prakash abused and beat him. It is alleged that Manak broke Santosh's hand by using caste words. After this, Dabang reached his house and also assaulted other family members including uncle and aunt, in which three people were injured.
Police are looking for the accused, the
police have started a search for the three by registering a case under serious sections on Mana, Prakash and Sher Singh on the complaint of the victim. Superintendent of Police Capt. MM Baig said that there was a fight on two sides. A case has been registered against three people on the complaint of one party. Teams have been formed for his arrest.
People with mental illnesses. Some mistakes are also made by backward people. Baba Saheb Bhima Rao started worshiping Ambedkar, but he did not do what Babasaheb Ambedkar did for the society.