Written by Raghavendra Shukla | navbharattimes.com Updated: 30 Jan 2022, 5:00 am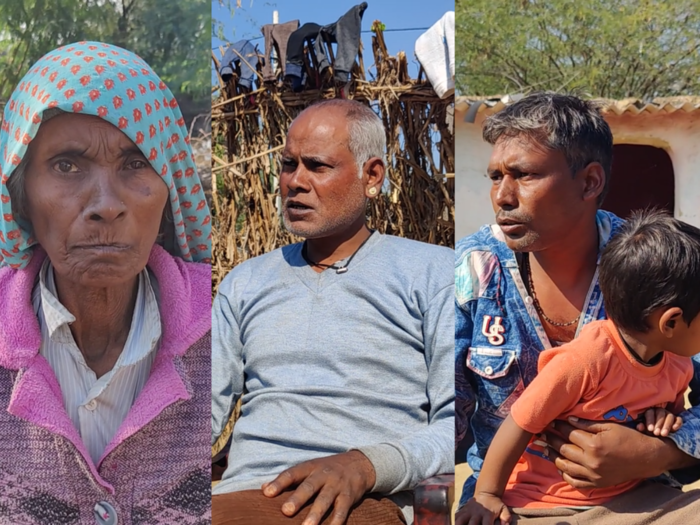 Mathura
"We have no caste. When we go to get the caste certificate made, the officials say that you do not have any caste and give the certificate of general caste."
Babu Lal, who has crossed the age of about 35 years, is the most educated in his basti. 
He did his graduation but didn't have a job. 
Have to work. 
The reason given is that the officials do not make their caste certificate. 
They say you have no caste. 
He went to Haryana and got caste made but to no avail. 
What will be achieved by the caste certificate of Haryana in Uttar Pradesh. 
Due to lack of caste certificate, Babu Lal has no job and is forced to work as a laborer.
The bad road
is about 40 km from Mathura in Uttar Pradesh's Chhatta town. It is one of the five assembly constituencies of Mathura. In this area there is a village Chandori. During the election tour of Navbharat Times, we reached this village while roaming. When we suddenly reached that area through narrow lanes and narrow roads, it seemed for a moment that someone had not drifted us back in the stream of time by sitting in a time machine. The road was unpaved and the traces of the rain that had rained two days ago were visible in the form of water logging while waiting for us safely.
'Canal' in the middle of the road
Due to the passing of a heavy vehicle in the middle of the road, such a pothole was made in a straight line that it seemed that if water was thrown into it, it could be declared as a sample of a canal project in the name of a leader. We stopped our car a kilometer or two before reaching the village and proceeded on foot towards the settlement of Chandori, about which we heard earlier that there are still mud houses there, that there is no other way to see. It will feel like an undeveloped world.
Avoiding the muddy roads, we proceeded towards Babu Lal's house. He was sitting outside the house with his family. As soon as we left, more people gathered there. Media persons had already come and gone in the village. So they had a sense of what was going to happen there in the next few moments? Chairs were set up for all of us. In the meantime, we saw that Babu Lal was trying to gently give it to some of his acquaintances with a blue hundred note in his hand. With that money they are asked to bring cold drinks and snacks, which may have been for our hospitality. When we saw it, we vehemently refused. Somehow they obeyed.
Snake game, a means of livelihood
There were chairs. When we sat on the chairs, the conversation started. Babu Lal told that he belonged to the snake charmer caste and his father and ancestors used to show the game of snakes. This was his livelihood, but during the government of Indira Gandhi, the game of snakes was banned. In such a situation, now when he tries to show this game, the police catch him and put him in jail. Babu Lal says who has to go to jail? That is why showing the game of snakes has stopped.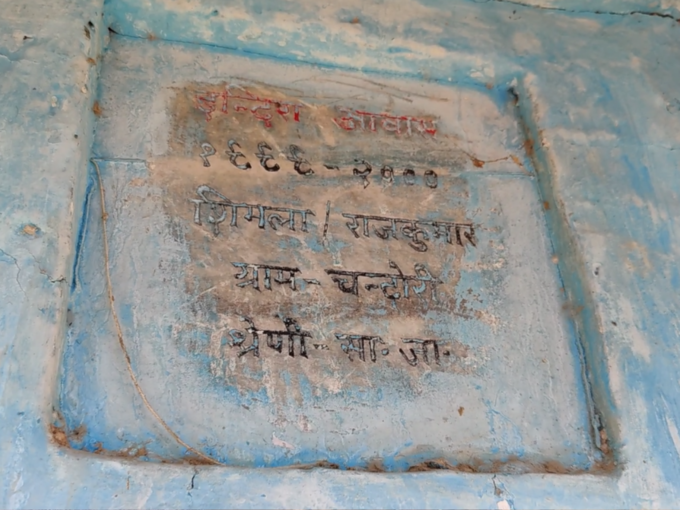 house in chandori
Netram is their neighbor and they have a bean, which has been lying unused for a long time. When our colleague Nirmal Rajput asks him to bring his bean, he tells that he has not played it for a long time. In such a situation, I do not know whether it will ring or not. When everyone insists, Netram gets up from his place and brings the beans from inside his mud-walled house. The bean rings. Clearly, the sound of the Bean would have once again resonated in their mind the heritage and ethnic tradition of their forefathers.
Babu Lal says that after the ban on the game of snakes, they were left with no work. He is a graduate and he has done BA but due to lack of caste certificate he is not able to apply for any job. He told that he had brought caste certificate from Haryana but it was not accepted. He appealed to the administration to make a caste certificate, but those people said that you do not have any caste and gave the certificate of general caste.
water logging on road
'From where to get caste certificate?'
Netram told that due to lack of caste certificate, he could not even get the stove. Apart from this, they are not getting the benefits of many government schemes. Caste certificate is being sought in all. From where do we get this?
Babu Lal said that we had reached Nakhlau (Lucknow) for the sake of caste. There a fellow like you (pointing towards us) took us but no action was taken on it. Caste certificate is a problem but there is no dearth of such problems here. Babulal told that about 200 people of 80 families live in this area of ​​Chandori. Nobody has a house. There are temporary houses made of mud, which tend to collapse in the rain.
The road leading to the village looks like a drain more than a road. It gets completely submerged during the rainy season and it becomes difficult to get out of there. Not only this, water enters even their homes. When asked about the Pradhan Mantri Awas Yojana, Babu Lal says that no one has PM Awas in his village. Netram reminds that in 1999, when Mayawati's government was formed, five people had houses under Indira Awas in her area. They got only that house from the government.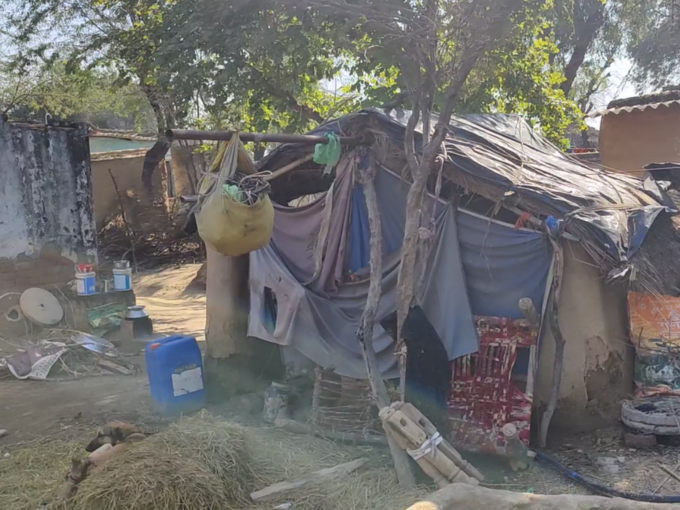 thatch hut
Both 'Modi on all goods'
told that they get food grains under the government's ration scheme. On this, a young member of Babulal's family quips and tells that whatever material is available, Modi on everything. He was talking about the pictures of PM Modi and CM Yogi on the government ration bag. When there was talk about the UP elections, Babu Lal said with aplomb that we will vote for Akhilesh (Yadav). We asked why are you angry with the Yogi government? On this he said that if we are not being heard in this government, then why vote for it?
He told that last time he had voted for BJP but there was no hearing on his problem, so this time he will vote for Akhilesh. Netram told that some work had been done in Mayawati's government. He gave Indira Awas to five people. He told that it is election time but due to bad road, no candidate comes here to seek votes.
While we were talking, suddenly a man wearing a track suit and a cap comes between us. The chair is put forward for him and he sits on it. His introduction is that he has been the candidate of the village head and was saved from winning by a few votes.
pasture land
When I told him the problems of Babulal and Chetram, he said that this cannot happen. He himself will talk to the Patwari and Tehsildar. He told that the land on which these 80 families of Sapera caste live is pasture land and it has not been registered yet. Houses cannot be built on these lands under the Pradhan Mantri Awas Yojana. Meanwhile, another person accompanying the prime candidate tells that the government has a plan for them that houses will be built for all on the land of the village society. When the question is asked on the road, the prime candidate says that since the land itself is illegal, so the road cannot be built.
There are many arguments to question the claim
of the prime candidate. First of all, if this land is illegal or pasture, then in the year 1999 under the government scheme, how the house was built here? Toilets have also been built in the township under the Swachh Bharat Mission scheme. Are these also built on illegal land? Apart from this, electricity connections have also been installed in the houses built on this land. However, they get electricity for only one hour a day, said a villager.
The family of these people of Sapera caste has been living here for many decades. Deprived of electricity, water, roads and hospitals. There is no caste certificate for the job. This means that he is still forced to fight for his identity. One can understand the plight of the people of the settlement from the annoyance of 60-65 or 70-year-old grandmother, which sneaks into the midst of our disciplined process of conversation like some rebellious anarchy.
MNREGA also not work
We are asking Babulal about MNREGA work when a woman's voice is heard from behind. She is the voice of a woman of almost 70 years. We want to know from them what is the issue? She is telling about the problem of water logging on the road. His words would translate, 'When the road is full of water, how do we take the patient to the hospital? Four-five people lift the patient on the cot and reach the base after plunging into the water, from where the patient is loaded in a tent and taken to the hospital 4-5 kos away. Dadi tells that once a man's leg was also broken while doing this.
His anger is also on the media people. She says those who take photos come every year and says that Abki your house will be made. Get it, they will get it, but nothing happens. The problem does not end here. Grandmother then takes us to her fallen house. His mud house collapsed during the rainy season. Now she lives in a small mud hut.
A fan is seen in Grandma's hut. The bed and a lot of clothes are stacked on a cot. Some empty bottles and paint cans are kept under the cot. There is also a pitcher. The earthen wall is covered with thatch. There is not even a place for a man to stand upright in the room. The room is completely open and there is every possibility that the movement of cold air in the night would have been done through the two open doors of the room. Grandmother lives in this room.