DMC's fact finding committee recommends that government set up a high-powered probe headed by a High Court judge
16 Jul 2020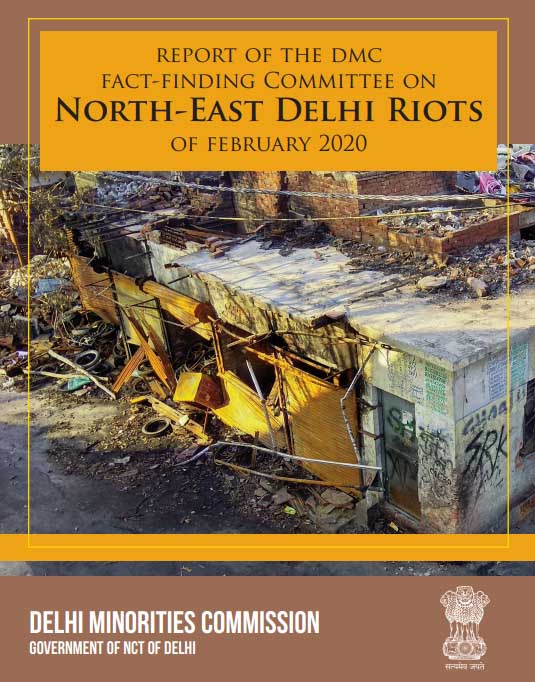 A high level Fact-Finding Committee, appointed by the Delhi Minorities Commission (DMC) to investigate the communal riots that ravaged neighbourhoods in North-East Delhi in February 2020, has revealed the role of Delhi Police, and local right-wing politicians in instigating the violence.
The report was released to the public on Thursday, July 16, and has been prepared by the committee headed by M.R. Shamshad Advocate-on-Record, Supreme Court of India, and included DMC Chairman Dr Zafarul-Islam Khan, and members Kartar Singh Kochhar and Anastasia Gill. They were assisted by legal experts and volunteers on the ground when collecting data and recording testimonies. The committee visited, spoke to survivors, and investigated the massive violence that almost razed the densely populated part of Delhi to the ground in what has been said to be the worst communal violence since the anti-Sikh pogrom in 1984.
The anti-Muslim riots raged through multiple areas of North East Delhi between February  23 and 27 before they was finally controlled. It is a matter of record, and once again confirmed by the DMC report that the communal violence started "almost immediately after" the volatile hate speech by Bharatiya Janata Party (BJP) politician Kapil Mishra on February 23, 2020 at Maujpur. He had said that the peaceful protestors at Jafrabad in North East Delhi will be forcefully removed and that he and his supporters will take matters into their own hands. Mishra had said, "We will not listen to the police if roads are not cleared after three days…" The Deputy Commissioner of Police North East district, Shri Ved Prakash Surya, was standing right next to Kapil Mishra when he said those words.
However the Delhi Police did not stop him, leave alone apprehend or arrest Kapil Mishra and those who cheered his hate speech. This DMC report states that this indicates that the Delhi Police "failed to take the first and most immediate preventive step needed to avoid violence from arising and protect life and property."
The report is based on multiple testimonies collected by the fact finding teams where each survivor has shared reports of police inaction, even as they kept calling emergency numbers, and seeking help from the police patrolling the area. The police "refused saying they had no orders to act," said the citizens. This fact finding team has stated, "The failure to prevent violence was not due to individual or sporadic breaches, but was a pattern of deliberate inaction over several days. The Delhi Police failed to exercise its prohibitory powers, under the Delhi Police Act, 1978 which enable the Commissioner of Police to promulgate orders prohibiting the carrying of weapons and arms, and the assembly of persons as "necessary for the preservation of public order"."
It added, "Prohibitory orders were either not enforced, or were only in name with no public notification. Police also did not exercise powers to disperse unlawful assemblies110, or take measures to apprehend, arrest and detain those perpetrating violence." In multiple cases the team found that the police delayed to register FIRs when victims of violence came to them. The victims have said that "FIRs have either been delayed or have not been acted upon."
"The violence which hit Delhi's North East district on February 23, 2020 and continued unabated for the next few days was seemingly planned and directed to teach a lesson to a certain community which dared to protest against a discriminatory law," states the DMC report. The Commission assessed this when they went on an official day-long visit to the violence-affected area in March 2020. The Commission then set up the fact-finding committee on March 9, 2020 to probe further. The probe continued in various ways even as the Covid-19 lockdown was announced from March onwards. The committee was granted an extension upto June 30, 2020 , and presented its report on June 27, 2020, which was accepted by the commission.
The fact finding committee has recommended that: The government to set up a high-powered probe headed by a sitting or retired judge of the High Court.
"Most victims of the religious minority have stated stories and put forth illustrations reflecting religious bias against them, inasmuch as being treated as a separate and distinct 'community' rather than citizens of the country," it stated.
The sequence of events:
December 12, 2019: Citizenship (Amendment) Act, 2019 (CAA) was passed by Parliament

December 15, 2019, police forcefully entered the campuses of Jamia Millia Islamia (University) in Delhi and Aligarh Muslim University in Uttar Pradesh (UP) (Decembe 16), subjecting students to beatings leading to severe injuries,

December 15 2019: Shaheen Bagh Peaceful Protests against Citizenship Amendment Act and National Register of Citizens led by ordinary people, particularly women and students.

December 2019 onwards: Protests at Jafrabad, Chand Bagh, Khajuri Khas, Old Mustafabad, Seelampur, Turkman Gate, Kardam Puri, Sundar Nagari, and Lal Bagh, and Inderlok (North West district), Nizammudin, Hauz Rani (South district) and Sadar Bazar (North Delhi district).

January 15, 2020: Sit-in protests in the North East district by women inJafrabad-Seelampur.
January 2020 onwards: 
Communal statements made by politicians of the Bharatiya Janata Party (BJP) with reference to people protesting against the CAA. These speeches were in the run up to Delhi Legislative Assembly elections due in February 2020. Union Home Minister Amit Shah, Minister of Animal Husbandry Giriraj Singh, Former MLA of Karawal Nagar and BJP leader Kapil Mishra, the Chief Minister of Uttar Pradesh, Yogi Adityanath among many others, made provocative, threatening speeches against the protestors.
January 20, 2020: Anurag Thakur, Member of Parliament, Hamirpur Lok Sabha Constituency and Minister of State for Finance, Government of India, raised a slogan in an election rally in Delhi. He incited the public present to repeat: "Desh ke ghaddaron ko, goli maaron saalon ko" (Shoot down the rascals/the traitors to the country).

January 27 2020: Home Minister of India, Mr Amit Shah, addressed an election rally saying that people should press the EVM button on 8 February with such anger that the protesters in Shaheen Bagh should "feel the current". He said "Your vote to BJP candidate will make Delhi and the country safe and prevent thousands of incidents like Shaheen Bagh."

January 28, 2020, in a televised interview, Parvesh Verma, BJP MP, made derogatory remarks against Muslim men,  "These people will enter your houses, rape your sisters & daughters, kill them. There's time today, Modi ji & Amit Shah won't come to save you tomorrow…"

January 28, 2020:  At a public meeting in Ranhoula village, Vikaspuri in West Delhi, Parvesh Verma publicly threatened to demolish all mosques in his constituency if the BJP win: "give me one month, how many ever masjids have been built on government land in my Lok Sabha constituency, I won't leave even one of them standing".

January 29, 2020: Tarun Chug, National Secretary, BJP, tweeted the following:24 "We will not let Delhi become Syria and allow them to run an ISIS-like module here, where women and kids are used.

February 2, 2020: Ajay Bisht ( known as 'Yogi Adityanath'), the Chief Minister of Uttar Pradesh, addressed an election rally in Delhi and  said that where "boli" (words) don't work, "goli" (bullet) does.

February 5, 2020:  Tejasvi Surya, BJP MP, in a speech in Parliament, equated the Shaheen Bagh protests to religious fundamentalism.

 February 23,  2020: Kapil Mishra rally and speech in Maujpur with DCP North-East standing by his side.
Within hours of the Kapil Mishra's speech on February 23, 2020, violence broke out in various parts of North East Delhi, including Shiv Vihar, Khajuri Khas, Chand Bagh, Gokulpuri, Maujpur, Karawal Nagar, Jafrabad, Mustafabad, Ashok Nagar, Bhagirathi Vihar, Bhajanpura and Kardam Puri. The official number of deaths recorded is 53, at least 250 injured persons who had to be hospitalised, and an unknown number of missing persons. The violence has led to huge financial losses due to the looting and arson of homes, shops, businesses and other properties.