Leaders including Bhim Army chief Chandra Shekhar Azad detained in Bhopal

By Sravani Sarkar
Updated: January 02, 2022 19:26 IST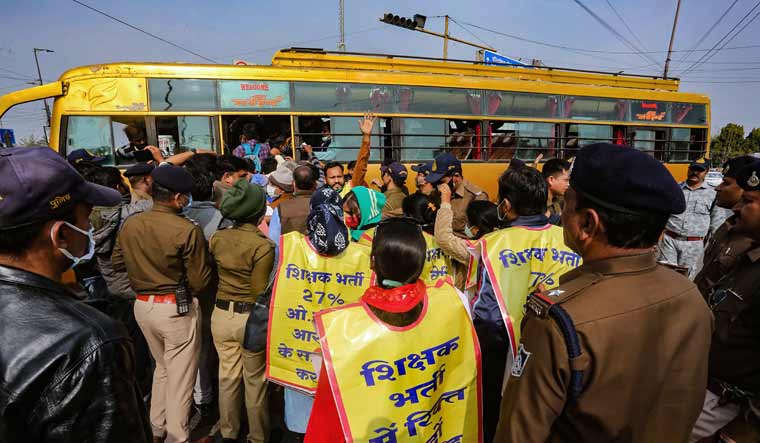 The other backward class (OBC) reservation issue has escalated in Madhya Pradesh with dalit and tribal organisations extending support to their OBC counterparts and the state government resorting to large scale police action to scuttle a joint protest planned in capital Bhopal on Sunday.
Around 100 leaders and members of the OBC Mahasabha, Bhim Army and Jay Adivasi Yuva Shakti (JAYS), including Bhim Army chief Chandra Shekhar Azad were detained by the police on Saturday and Sunday in a bid to prevent the protest.
The protesters were planning to march to the CM House with a main demand of 27 per cent reservation in panchayat polls.
Commissioner of Police (CP), Bhopal, Makrand Deuskar confirmed to THE WEEK that 80-90 people including leaders of OBC Mahasabha – the organisers – were detained by the police as preventive action. About 1,500 protesters who had reached the city from other places were 'diverted back', he said.
Deuskar also confirmed detention of Azad at Bhopal Airport, adding that the detention was to the extent of preventing him from joining the protest planned at one of the major traffic junctions of the city (where permissions of protests are not granted). The CP said that Azad was still at the airport and was free to leave Bhopal as per his wish.
"The planned protests could have caused major disruptions in the city and therefore preventive action was taken," Deuskar said.
The detention of Azad caused a ripple on social media with a hashtag for his release trending on Twitter.
Earlier on Saturday, several prominent leaders of the OBC Mahasabha including founder president Dharmendra Singh Kushwah were detained by the police, according to sources. Posts emerged on the social media account of Kushwah on Saturday afternoon saying that the protest had been called off in view of COVID-19 pandemic. However, other office bearers of the organisation including national core committee member Mahendra Singh Lodhi took to social media to allege that the posts had not been made by Kushwah and that his cell phone was in possession of police. They urged the protesters to arrive in Bhopal as planned.
However, on Saturday morning, Bhopal police started picking up protesters gathered at different places and released most of them outside city limits. Some leaders were kept in detention. Heavy barricading was done on all roads leading to the CM House, which continued till the filing of this report. Chief Minister Shivraj Singh Chouhan was meanwhile in Nashik in Maharashtra for a personal religious visit.
Barricading was also done on city limits and buses and other vehicles were searched to prevent protesters from reaching the capital, sources said. JAYS state president Antim Mujalde was detained in Sonkutch of Dewas along with other members of the organisation while they were on way to Bhopal on Sunday morning.
Political verbal duel continues
Political accusations and counter accusations meanwhile continued as the Congress accused the BJP government of suppressing the protest with the use of power. MP Congress chief Kamal Nath tweeted to question as to why the OBC protest was being suppressed when the BJP and related organisations were allowed to hold all kinds of public events.
"Office bearers and members of OBC Mahasabha were prevented from coming to Bhopal through police blockade and were arrested. There are attempts to crush the protest by the use of force. Protesters were physically assaulted. This is happening in a government that calls itself well wisher of OBC people," Nath tweeted with a video of police action.
He further said, "however much you try to suppress OBC, dalit and tribal people, these people will continue to struggle for their rights. They will not be afraid or suppressed. Congress stands with these sections of people and we are committed to their welfare and uplift."
Ex-minister Kamleshwar Patel visited Ratibad police station to meet the detained office bearers and later held a press conference along with MP Congress working president Ramniwas Rawat to condemn the suppression of OBC people by the BJP government. They warned that if required, the Congress will launch a statewide agitation in support of OBC issues.
State urban administration minister Bhupendra Singh, however, accused the Congress of conspiring to link organisations of other communities to the protest to vitiate the atmosphere in the state. He said that when the BJP government led by Shivraj Singh Chouhan was taking steps for the welfare of OBC people, why they should protest. He further said that the BJP government ensured 27per cent reservation to OBCs in government jobs and took all steps to ensure that the panchayat polls were not held without OBC reservation.
"It was Congress that went five times to the High Court and two times to the Supreme Court, causing the SC to order a stay on OBC reservation in panchayat polls. Now, prominent lawyer Harish Salve will put up the government side in SC on January 3. The state government will be urging SC to give four months time so that a report on socio-economic conditions of OBC people (requisite for reservation) could be compiled and presented," Singh said.