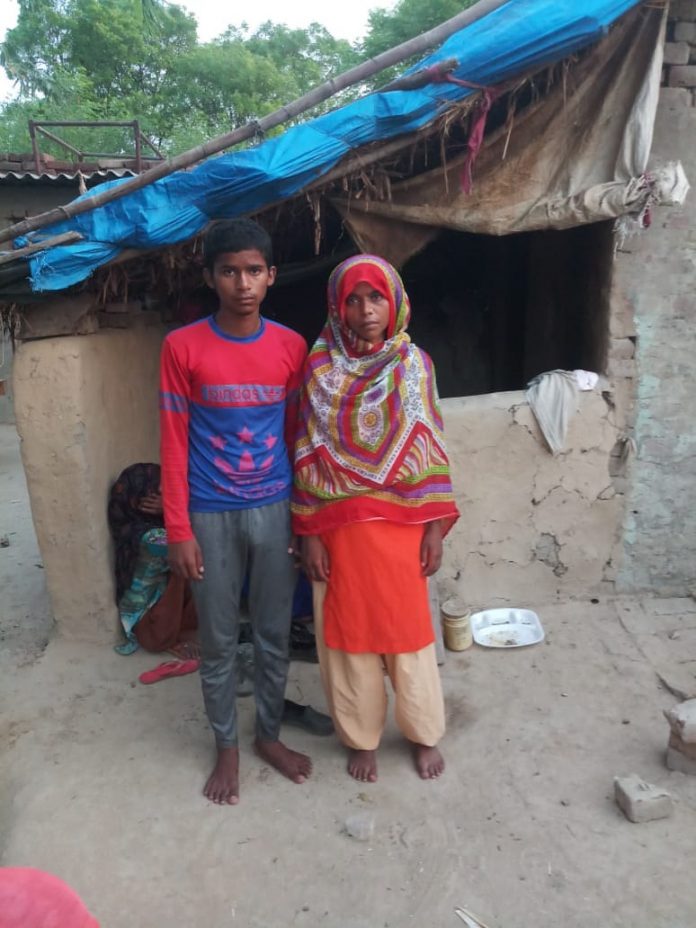 Jamila with her son
Aligarh: "I begged them not to beat him and he will die," says Jamila, wife of 44-year-old Sultan, who was beaten to death allegedly by private hospital staff in Aligarh.
Sultan was a resident of Kareka Tehsil, Aligarh. On 2 July, Sultan along with his wife, son and nephew Chaman went for a consultation at a private N.B hospital in Dhorra Mafi Aligarh as, according to his family, "Sultan was suffering from Dysuria (Painful Urination) for some days."
Upon leaving the hospital, the family claims that Sultan was beaten to death with sticks by the staff of the hospital who were forcing them to pay extra money after the payment of the bill.
On the same day, a CCTV footage went viral on social media in which a man runs out of the hospital and starts beating a person on the Scooty.
As told by Chaman, nephew of Sultan, "he and Sultan were on the Scooty".
Another video shows Chaman pushing a person, to which he agrees and says, "it was my reaction because my uncle was very serious and they were not letting us go, I just pushed him back."
"Doctors at JNMC (government hospital) told us that due to the coronavirus crisis they can't operate him because of which we had to bring him to a private hospital," says Chaman, "we were told that the veins through which the urine passes are clogged."
When asked about the total expenditure, the doctor at a private hospital told Sultan to get an ultrasound done, to which he agreed.
However, Chaman alleges that, "without doing an ultrasound they handed us medicine which was worth Rs 5000 and not affordable for us".
"I told him we are labourers and we can't manage this expenditure," Chaman said.
"After an argument, they agreed to take the medicines back and we paid them around Rs 3780 for the drip, Cannula and medicines that they used," he explains further.
As the family left the hospital, "blood started to come out from the Cannula so we decided to go back and get the drip needle out to which the staff replied that we will do it but you will have to pay Rs 4000," he said.
An argument ensued, said Chaman.
"He was beaten by the staff. They bashed me with sticks also, but Sultan couldn't resist the attack and he died," says Jamila, and added amid sobs, "I don't know how we will survive."
When TwoCircles.net contacted N.B hospital, the receptionist said that "the doctor is not available" and denied the allegations saying, "Sultan died due to a sudden cardiac arrest."
Chaman complained about the stubborn behavior of hospital staff and the doctor who challenged him "to do whatever he can do to prove them guilty".
According to Sultan's family, FIR has been registered in Khwarsi police station Aligarh.
Jamila said he wants a fair investigation into the death of his husband and demanded strict punishment for the culprits.
SHO Khwarsi told TwoCircles.net that the post mortem report shows that "Sultan died due to lung disease."
"This is being done under pressure," Chaman said, adding, "I am an eyewitness and CCTV footage clearly shows he was beaten up", and alleged that, "they are showing incomplete footage of the incident at some places."