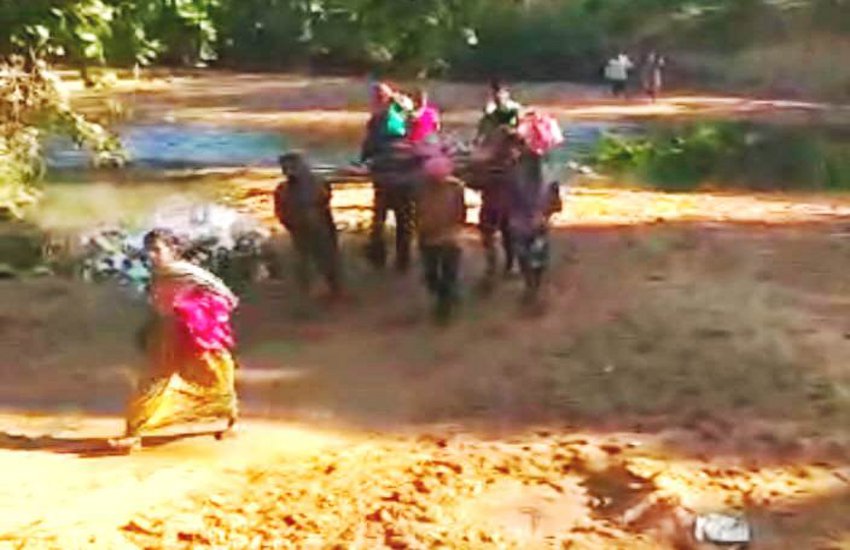 Mainpur Seeing Her Condition, The Villagers Crossed The Bumpy Roads On The Way To The Two Km Route On The Cot After The Delivery Started On Monday. After Which The Sub-Health Center Deharguda Was Brought Via Mahtari Express. Where The Woman Immediately Gave Birth To A Healthy Baby. It Is Not The Case That This Is The First Case, Every Time Pregnant Women Are Taken To The Road By Crossing The Water With The Help Of Cot And Waist. Which Is Nothing Short Of Trouble For Pregnant Women. In View Of This Problem, There Has Been A Demand For Opening Sub-Health Centers In The Rural Village Here, Building Bridges And Pucca Roads On The River Simhar.
The Campaign Of The State Government To Include All The Villages Of Chhattisgarh In The Pace Of Development Is Proving To Be Almost Unsuccessful. Development Of Village Poor In Tribal Areas Is Still On The Path Of Progress In The Accounting Of Pages. However, The Reality Becomes Clear From Looking At The Status Quo Of The Areas. At The Same Time, The Tribal Villagers Are Waiting For Some Administrative Miracle And Are Forced To Live A Life Of Ruin. A Similar Case Is Just 10 Km From Tribal Headquarters Mainpur. Distant Gram Panchayat Was Seen In Jindar's Dependent Village Simhar. Where A Pregnant Woman Started Suffering From Childbirth Around 11 Am On Monday, 102 Mahtari Express Was Called By The Relatives. The Unfortunate Thing Is That The Mahtari Express Was Not Able To Cross The Bumpy Road And The River Simhar To Reach The Village Simhar. After Which The Villagers Walked 2 Km From Simhar With The Help Of Khat And Crossed The Sihar River And Reached The Mahtari Express. After This, The Pregnant Woman Was Brought To Sub Health Center Deharguda.
It Is To Be Known That The Population Of Village Simhar Is Around 360 And About 60 To 70 Kamar Tribal Families Reside Here. They Are Counted Among Those Backward Tribes Of The Government, Whose Efforts Are Being Made To Link Them With The Mainstream Of Development By Running New Schemes For The Development. But, Despite Being Close To The Gariaband District Headquarters, The Villagers Here Who Should Get The Benefit Of The Government's Schemes, Have Not Yet Been Able To Get It. Here The Villagers Of Panch Sukalal Sori, Raisingh Netam, Amaru Netam, Amarsingh, Yashwant Netam, Adhanta Ram, Rayamotin Bai, Parmila Soori Said That The Construction Of Culvert And Road On The River Simhaar Is Demanded Every Year, But Our Demand Is Still Not Fulfilled Could Happen. The Villagers Are Cut Off From The Headquarters On Rainy Days. Where One Has To Go Through The Problem Of Basic Amenities Including Health. If The Culvert And Pucca Road Are Made, There Will Be No Trouble.