Updated: 20 May 2021, 09:37:00 PM
In Purnia, a fierce mob set fire to the Mahadalits colony. In this incident, the police have arrested two people. Victims told that late night a mob that had reached the hundreds set fire to the colony. Then women and children were beaten up badly.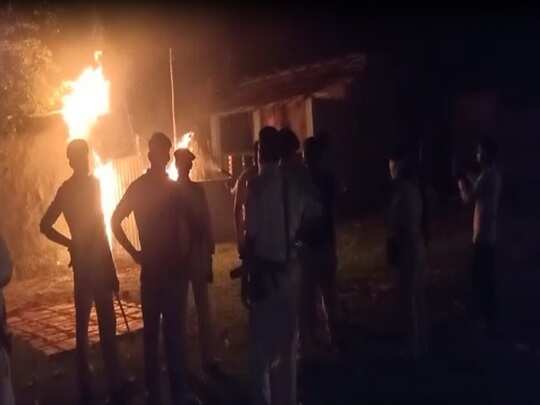 Namita Kumari, Purnia In
the Majhuwa village of Biasi police station of Purnia, a crowd of hundreds of people wreaked havoc in the Mahadalit settlement. Late in the night, a fierce mob set fire to the Mahadalit colony. In which 13 houses were burnt to ashes. When the hearts of the Havans were not filled with this, they beat up the former watchman Nevalal Rai. After entering the colony of Mahadalits, women were also beaten and molested. In which about 10 women have been injured. Those who were sent to Biasi Hospital for treatment.
At the same time, police of several police stations including Bisi's SDM Amarendra Kumar Pankaj, SDPO, Bisi police station in-charge Amit Kumar reached the spot and with the help of fire brigade could control the fire. The victims said that hundreds of people from several nearby villages attacked and set fire to their colony at 11 pm. During this time, people entered their homes and also indulged in indecent behavior with women and beat them fiercely. Wounds of women are clearly visible on their bodies.
people found in PMCH, two people arrested, incident in land dispute: SP
On being asked about this, SP Dayashankar said that two people were arrested in this case Has been done. For the time being, the statement of the aggrieved party is being taken. He said that this incident has happened due to the land dispute. Raids are being conducted to arrest the accused. Soon the accused will be caught by the police.
Taliban punishment for love in Bihar, villagers made a loving couple hostage, tree- bound young man's cut hair has happened here in 2015.A similar incident: SDM Amarinder Kumar Pankaj of Biasi told that there are two here There was a very long dispute between the parties about the land. This land has also happened once in the year 2015. Since then there was a police camp here. But he was later removed. On 24 April, there was a lot of fighting and arson among the people. But in the dispute over the same land last night, both sides have been beaten up. In which the mob set fire to the colony of Mahadalits and the former watchman has been beaten to death. He said that at present, magistrates and police forces are camping at the scene. Efforts are being made to arrest the accused.