July 9, 2020
Rajkheda 
Electricity corporations in Rajkheda, Rajasthan are feeling helpless in providing electricity to their consumers. The corporation is unable to change its transformers in the face of goons' domination. Due to this, they are deprived of the electricity connection of Dalwati township of Singhwali village. Dalits demonstrated in front of this corporation.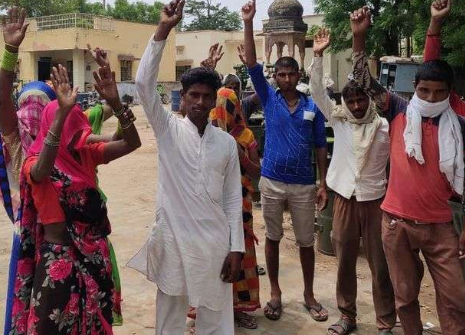 Magazine reportAccording to the 16 kV transformer in Bade Singhwali village was burnt long ago, because connections were issued to 24 consumers instead of 16 on the small transformer. On the demand of the villagers, a fortnight former corporation officials repeated the old mistake and got a 16 KV transformer replaced there. Since the transformer was already overloaded, the villagers stopped the corporation workers to make more connections as soon as they had 16 connections, due to which they could not make connections to the houses of Dalit settlements while their bills were full. 
According to the report, the people of the Dalit colony continued to visit the office of the Junior Engineer Assistant Engineer, but their connections were not made for fear of overbearing. On Monday, a large number of female men gathered and reached the corporation office. Performed fiercely. At the same time, the MLA also heard the tragedy. 
After this, on Tuesday, on the instructions of MLA Rohit Bohra, the Corporation's squad reached the village with a 25 KV transformer and replaced the old transformer, but the domineering of the village stopped them from converting. Asked to install a separate transformer for the Dalit colony, it was returned, but the corporation officials thought it appropriate to quietly move instead of taking action against the overbearing. The Dalit colony was once again forced to pass between darkness and heat.
Bunty, a resident deprived of electrical connections in Singhwali village, says that we are a laborer family. Can not fight, we can join hands. Some people returned the transformer. Don't know what will happen They say police will get help, then transformer will be installed. I had sent employees with transformers, but some people did not allow them to be installed.