G. Rajasthan Web Team Tue, 27 Oct 2020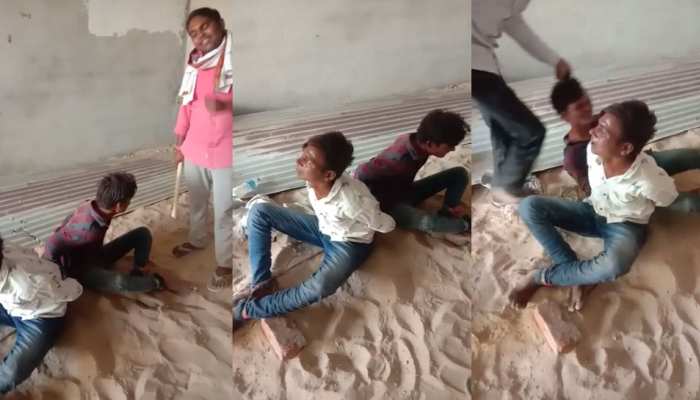 Bablu Meena, Jalore: Despite all the stringent laws, atrocities on Dalits are not being named. Every day, such incidents come out from some corner of the country that make one think. Do Dalits not have the right to live with dignity, many incidents of discrimination and openly harassing Dalits have come to light even today.
In Rajasthan too, there have been many incidents of torture with such Dalits. Now a shocking video of Brutal Beating with two Dalit minor boys has surfaced in Jalore's Sanchore. In the video, some domineering Dalit boys are seen beating up badly. Boys beg people for mercy, requesting them to leave, but this has no effect on the bullies.
Both Dalit minor boys are crying badly by beating, but some youth are constantly beating him with sticks. Both youths are tied first hand, then beaten in a very barbaric manner. The video of the fight went viral on social media, after which the police came into action. Police registered a case and arrested three accused late at night.
In a 
viral video, the two young men are being beaten by tying their arms and legs together in a viral video. The aggrieved youths have no chance of survival. Despite repeated pleas to leave, there is no difference in the beating youths, as if blood has passed on the head. The manner in which the beating has been done in the video, it seems that with the intention of killing life, the poles are being attacked rapidly. The four youths are not only raining down on both Dalit minor boys, but are also giving dirty profanity using vulgar language. 
The video of the fight is being told of Sanchore town. The video is being claimed a few days old. The fear of overbearing Dalit youth was such that despite the beating of the victimized youths, no case was registered at the police station due to fear. Now after the video went viral, the Sanchor police registered a case and arrested three accused late at night. The police is investigating the matter as to why the Dalit minor youths were assaulted.
COPY-SUJIT KUMAR NIRANJAN