Amar Ujala Network, Jhansi Updated Sat, 31 Oct 2020 03:05 AM IST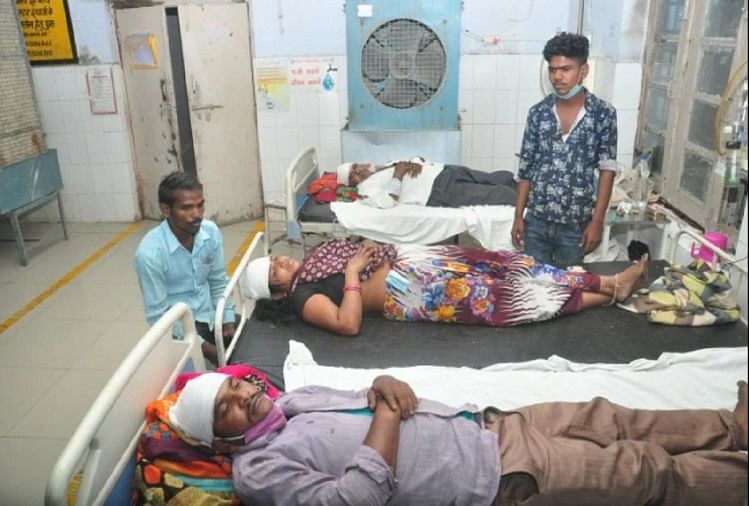 Imrat, Geeta and Suraj injured in village sire incident in district hospital – Photo: amar ujala
Scheduled Caste people were attacked after entering the house from the hand pump in village Sainar in Premnagar police station area. Three people from a family were injured by this. It is alleged that the bullies also demanded Rs 10,000 in the name of purification of hand pumps. In this case, the police has registered an FIR against nine people, including a nominee. At the same time, the accused have described the allegations as baseless.
Uday Singh, who lives with his family in Pathraya locality of village Sainar, works as a laborer. On October 26, around 4 pm, some people of Uday's family reached the locality and started filling water. This thing was exasperated by some people living in the locality. He stopped the people of Uday's family from filling water. Also demanded ten thousand rupees for purification of hand pumps. When Uday's family opposed it, the bullies entered the house and attacked Uday and his family members.
During this, Uday's father Imrat (57) was severed and fractured in his hand. Apart from this, mother Geeta (54) and brother Suraj (27) were also beheaded. The incident was reported to the police. Police reached the spot and took the victims to the hospital. Police have registered an FIR against nine people including opposition Monu Yadav in various sections including SC / ST Act. Bijauli Outpost Incharge Pramod Kumar Tiwari says that an FIR has been registered. The arrest of the accused is being punished.
At the same time, opposition Monu Yadav said the allegations were baseless and said that the opposition were arguing with a family members of the locality near his house. On refusal, the opposition bent on fighting and started throwing stones. His uncle Ramesh Yadav also suffered a serious head injury in the incident. Apart from this, two other family members were also injured. The incident has been reported to the Tahrir police.