Publish Date: Tue, 15 Dec 2020 11:41 PM (IST)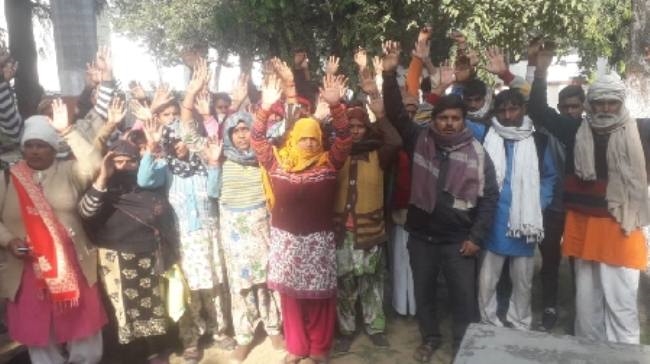 JNN, Muzaffarnagar. The people of the scheduled society have accused the police of not taking action after killing the woman. They allege that the police is not taking action under the pressure of the domineering village. He warned that if the police did not take action, they would be forced to protest and protest.
Ravindra Putra Mahendra Singh, resident of Qutubpur village of Meerapur police station area, while performing in tehsil with the people of Dalit community, told that his mother Pushpa Devi had left the house on December 9 to work as a laborer. She was standing at the crossroads of the village, waiting for someone, when some domineering people of the village were coming at Jota-Buggi. Seeing his mother standing, he asked him to move away, calling him a caste word. Later he deliberately hits Buggy, Due to which he died. He alleged that the police changed their report and filed a case and a report was filed against the same person. The police is not taking any action on that either. He warned that if he did not register a report against the other people involved in that murder, he would be forced to perform a sit-in protest. CO Shakeel Ahmed has investigated and assured of action. Husband accused of giving three divorces, assault
JNN, Muzaffarnagar. The married woman, a resident of Anti village, has accused her husband of divorcing her with triple talaq. The victim reached the police station late in the evening and told the police about the incident. Police has initiated action on the basis of Tahrir.
Married woman, a resident of Anti, told in the Tehriar at Kotwali that husband and sister etc. beat her up. On Tuesday also, the husband unnecessarily beat him and drove him out of the house. She has accused the husband of divorcing her. The victim told the police that when her maternal side came to her in-laws' house, the husband and others committed indecency. The victim has demanded action against the husband and his family members. Inspector-in-charge HN Singh told that investigation is being done on Tahrir.