Since its inauguration in 2018, the Sardar Patel statue has led to mass displacement, affecting close to 75,000 tribals who observed a "black day" today.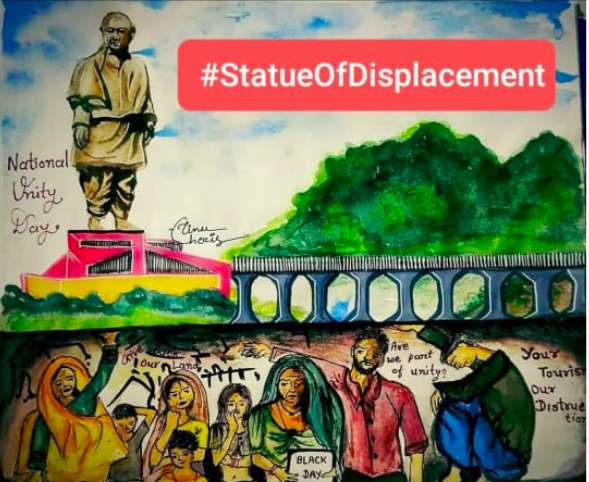 Tribals from the town of Kevadia in Gujarat were up in protest, marking Saturday as a "black day" against the Statue of Unity project, made to commemorate the legacy of Sardar Vallabhbhai Patel.
Even as Prime Minister Narendra Modi visited the statue today, the tribal leadership and activists faced pre-emptive arrests with internet services remaining suspended in some parts. In addition to launching 17 new projects, Modi launched a sea-plane service from Kevadia in Gujarat's Narmada district to the Sabarmati riverfront. The district remains among the poorest and most marginalised in the state.
Tribal families across villages in Kevadia have been protesting against the alleged forced land acquisition and displacement caused by the Rs 3,000-crore statue. To many, it remains a colossal waste of public funds, a gimmick which has adversely affected as many as 75,000 people.
Accompanied by Chief Minister Vijay Rupani and Governor Acharya Devvrat, the Prime Minister reportedly indulged in games at the Children's Nutrition Park, cruised in a jetty along the six-kilometre navigation channel down the Narmada River and petted animals and birds at the Sardar Patel Kevadia Zoological Park. The homes of the tribals were destroyed for this land.
Speaking to NewsClick, a Kevadia resident, on the condition of anonymity said: "This is our land, we were told to leave and find our way, only for such indulgences."
Since its formation, the district has had no government hospital with modern amenities and intensive care unit facility. Last year, villagers from across 72 villages did not cook food in their homes for three days to register their protests against the project and observed a complete shutdown. Eight tribal leaders, including Praful Vasava and Krishna Kant, were detained in a bid to maintain "peace" in the area.
Speaking to NewsClick, tribal leader Chhotubhai Vasava said: "The government is trying to market this and sell it as a tourism project; they are turning a blind eye to the suffering of many people who have lost their traditional land holdings and the brazen violations of the constitutional provisions that have taken place because of this project. The price of tickets is extremely high and people are finally realising that this was not about tribals or tourism but a project for massive loot."
On the day of its inauguration two years ago, 300 tribal activists were detained and eventually released. Activists on the ground say that the suppression has only become worse.
NewsClick had previously reported on villagers in the area who had threatened to immolate themselves over land acquisition by the Sardar Sarovar Narmada Nigam Limited (SSNNL).
Then, Praful Vasava had told NewsClick that the "government has been aggressively acquiring land for projects. Tribals have been arrested for entering their own land, their tractors or other agricultural equipment have been seized for farming. Tribals have been farming these lands for years. Without their land, they don't have an alternate source of income. When the Statue of Unity was to be built, the government told us that it will bring jobs for the tribals. But nobody has got employment; instead, their source of livelihood is being taken away," he added.
The Statue of Unity stands tall due to CSR funds from cash-strapped PSUs. A CAG report tabled in Parliament on August 7, 2018, brought out serious irregularities in the use of social responsibility funds by the PSUs under the administrative control of the Ministry of Petroleum & Natural Gas (MPNG).