Oct 13, 2020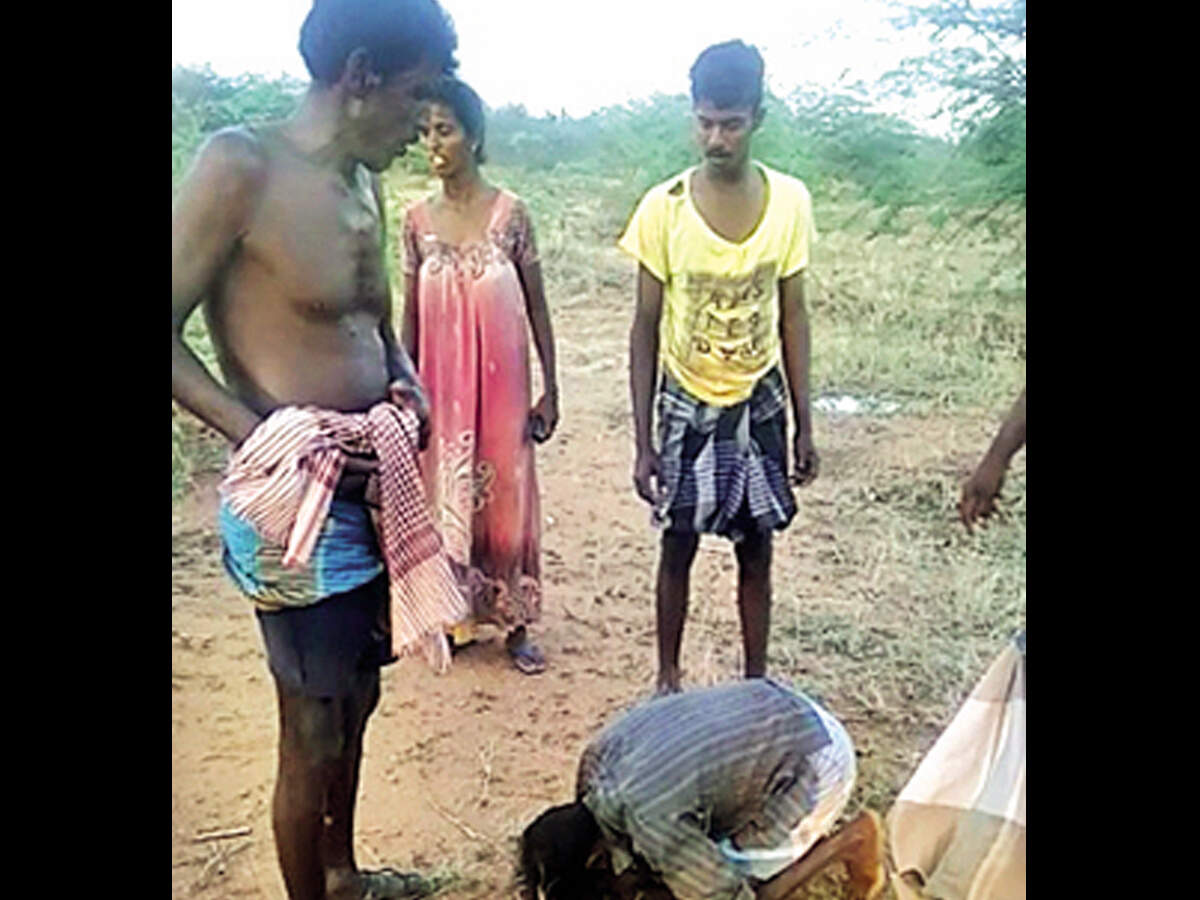 TUTICORIN: In another case of
caste atrocity in TN, a dalit goatherd was forced to fall repeatedly at the feet of a thevar man in apology after they had an argument.
The incident, which took place on October 8 at Olaikulam in Kayathar taluk in Tuticorin district, came to light after a video that was recorded by the perpetrators of the atrocity went viral on social media.
On Monday, the Tuticorin police booked seven thevars under the Scheduled Castes and Scheduled Tribes (Prevention of Atrocities) Act and the Information Technology Act on a complaint from the goatherd, A Paulraj, 60. Four of the accused have been arrested and a search is on for the rest. In the video, the accused are seen asking Paulraj to fall at the feet of one of them and also threatening to slit his throat. Paulraj, who has four children, said he felt humiliated as the video was shared on social media and sought action against them.
In his petition to Tuticorin superintendent of police S Jayakumar on Monday, Paulraj said the trouble started when one of his goats ran into the herd of Sangili Thevar of the same village.
"He called me names and spoke ill of my caste and I shouted back at him. He went to the village and soon returned with his relatives. They abused me by my caste, made me fall at Sangili Thevar's feet and also took a video," Paulraj said.
Police sources said preliminary inquiries revealed there was an altercation between Paulraj and Sangili Thevar and the former beat the latter on his head with a staff. Though the two then patched up, members of the thevar community were upset and made Paulraj come to the same place where he attacked Sangili Thevar and made him fall at his feet, police sources said.
The Kovilpatti deputy superintendent has been asked to conduct a probe and submit a report within seven days.
The police superintendent told TOI that a case was registered against seven people under sections 147 (punishment for rioting), 294(b) (uttering obscenities in public), 323 (voluntarily causing hurt) and 506(ii) (criminal intimidation) of the Indian Penal Code, read with sections 3(i)(r), 3(i)(s) and 3(2)(v)a of The SC/ST (Prevention of Atrocities) Act and Section 66 of the IT Act.Viduthalai Chiruthaigal Katchi founder Thol Thirumavalavan shared a 10-second video of the atrocity and stated that such uncultured incidents were not confined to North India but happened in Tamil Nadu too. Two days ago, a dalit woman panchayat president had complained that she was made to sit on the floor during meetings of the local body in Cuddalore district.