A 23-year-old Dalit truck driver, Prabakaran, was stabbed to death on October 9. Two people named in the FIR have been arrested, while the third accused, a local DMK leader, remains scott-free.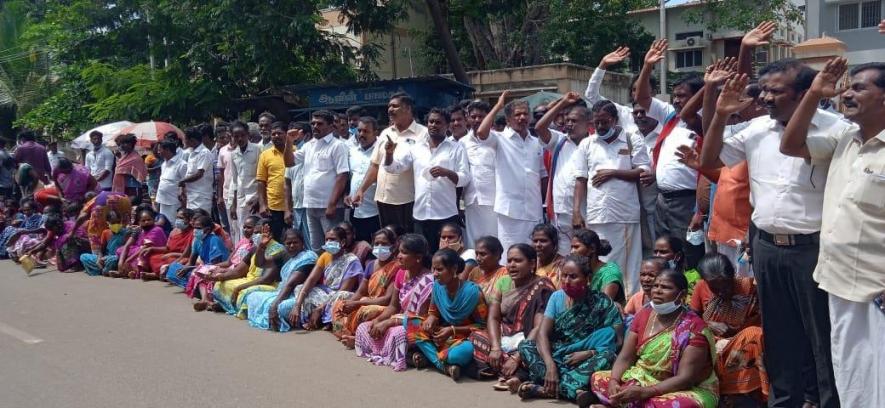 A 23-year-old Dalit truck driver, Prabakaran, was stabbed to death on October 9 for allegedly developing a relationship with a caste Hindu girl. The girl's father, Manikandan, and his friend Karthi have been arrested and booked under the Scheduled Castes and the Scheduled Tribes (Prevention of Atrocities) Act (SC/ST Act).
The third accused in the case, Seethapathi, a local body representative from the ruling Dravida Munnetra Kazhagam (DMK) party who allegedly instigated the murder, runs scott-free. Prabakaran's family has refused to accept the body until Seethapathi is arrested.
The Tamil Nadu Untouchability Eradication Front (TNUEF), All India Democratic Women's Association (AIDWA) and other Dalit rights organisations mobilised hundreds of protesters on October 13, demanding Seethapathi's arrest, but the police remained indifferent. The Tamil Nadu police are accused of overruling the law and siding with the ruling party.
CIRCUMSTANCES LEADING TO THE MURDER
Prabakaran was allegedly in a romantic relationship with a 17-year old minor girl studying in class XI. The girl belongs to the Viswakarma caste, a community categorised under the Other Backward Classes in Tamil Nadu.
"She ran away from home twice to be with Prabakaran, but he sent her back home. He was aware that she was not yet 18 and still a minor. He did the right thing," said Chinna Pandian, Tanjore district leader of TNUEF.
Manikandan had warned Prabakaran a couple of times that he would face dire consequences if he continued the relationship with his daughter.
"Even if the girl's family had issues with Prabakaran, they should have approached the police. How can murder be a course of action?" added Pandian.
Not only was Prabakaran stabbed to death, his younger brother, who came to stop Manikandan, was also stabbed. The brother is admitted to the district government hospital, and his health condition is still critical.
POLICE OVERRULE LAW
Prabakaran's sister, who filed the FIR, has named three people for murdering her brother.
Karthi, the father's aide in the murder, belongs to the Vanniyar caste, a community known for caste atrocities against Dalits in Tamil Nadu.
DMK Thirupananthal union councillor Seethapathi is blamed for, besides instigating the murder, hiding Manikandan and Karthi at his house while the police looked for them.
"The police arrested the two people from Seethapahti's house, but they deliberately did not arrest Seethapathi even though his name features in the FIR," said Pandian.
All accused booked under the SC/ST Act can be arrested without a warrant, with the onus to prove their innocence lying on the accused. Despite this, the police didn't arrest Seethapathi because he is a DMK leader in the locality.
On October 11, the deceased's kin gathered outside the Kumbakonam RDO office demanding the immediate arrest of Seethapathi. The police had assured them that he would be caught within 48 hours. But, that did not happen.
Seethapathi was still not arrested two days later, leading to a large mobilisation on October 13 afternoon.
"More than 500 women gathered at the protest site," said Vetri Selvi, an AIDWA leader in Tanjore district.
"This time, the police did not even assure us that Seethapathi would be arrested. We will continue our struggle," said Pandian.
BREADWINNER OF FAMILY NO MORE
Prabakaran was a mini truck driver, and he was his family's sole breadwinner, supporting his younger brother and sister.
Manikandan, the murder accused, also does not belong to a wealthy background. He was a welder by profession.
"Even though both Prabakaran and Manikandan were simple manual workers, unfortunately, the caste pressure created this tragedy," said Selvi.
"My children are also married outside caste, and there is no problem. They are happy with their lives. These are all unnecessarily instigated by caste groups who gain from it," she added.
She also said, "We are trying to meet the girl. We do not know what she is going through. But, the family is not allowing us."