The two dead girls were cremated an hour apart and in the presence of about 200 cops who outnumbered residents at the funeral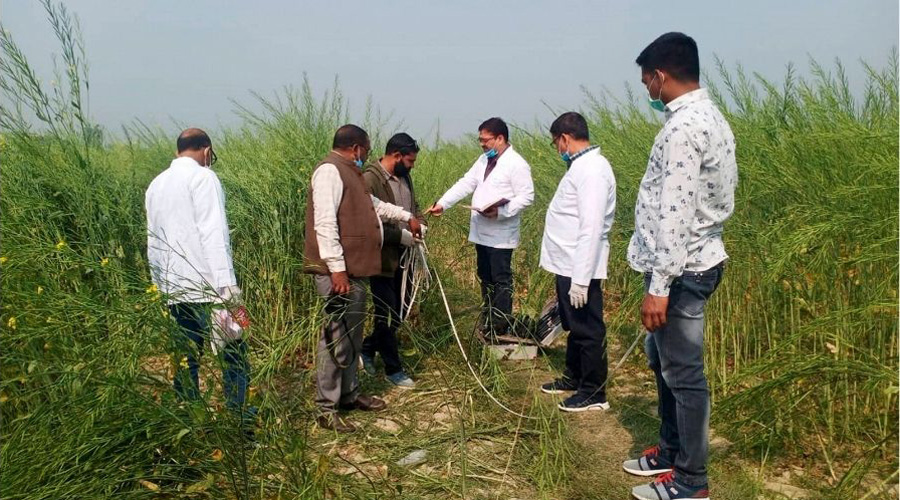 ---
  |     
Lucknow 
  |   Published 20.02.21, 01:37 AM
---
Uttar Pradesh police on Friday barred journalists and Opposition politicians for six hours from entering the Unnao village where three minor Dalit girls were allegedly found poisoned on Wednesday night, prompting allegations the authorities were "hiding something".
By the time the visitors were let into Baburaha village around 3pm, the two dead girls — aged 12 and 16 — had been cremated. The third, aged 14, is on ventilator at a private hospital in Kanpur.  The police, who say the post-mortem report has revealed poisoning, arrested two young men from a neighbouring village on Friday.
State police chief H.C. Awasthi has denied any injuries on the girls — not even stricture marks – although villagers say the victims, found in a mustard field, had had their hands and legs tied with their dupattas. The villagers also claim that a corner of the field had been destroyed, implying a struggle.
Clampdown
Police and paramilitary blocked the entry points to Baburaha from 9am till 3pm, holding journalists and Congress, Samjawadi and Bahujan Samaj Party workers at bay.
Villagers said the two dead girls were cremated an hour apart and in the presence of about 200 cops who outnumbered residents at the funeral.
Led by former MLA Udai Raj, Samajwadi workers held a dharna outside the village and alleged a cover-up. "The police didn't protect the crime scene, allowing everyone to visit the spot," Raj said.
"They also detained the girls' parents for about 12 hours and released them when we protested on Thursday. What are they hiding now by stopping us outside the village?"
The victims' parents and other villagers have alleged 12 hours' detention since Wednesday night by the police, who deny the charge.
Savitri Bai Phule, former Bahraich MP from the BJP who joined the Congress last year, met the families after 3pm. "There's certainly something fishy. We need to know what the police want to hide," she said.
"The police haven't explained why they did not take the family members to hospital along with the victims."
Additional SP Vinod Pandey said: "Outsiders were stopped because the forensic team was at work in the village. It was also necessary to maintain law and order."
DGP Awasthi said there were "no injury marks on the bodies of the girls and their clothes were intact".
The accused
Vinay Kumar aka Lambu, 22, and a 17-year-old boy from neighbouring Keuna village have been arrested. Inspector-general Laxmi Singh said Vinay had confessed to offering the girls water poisoned with insecticide.
Singh said Vinay had recently asked one of the girls for her mobile number but she had refused. Vinay then allegedly called the girl to the field. She arrived with the two other girls and the boys offered them all chips and the poisoned water, Singh said.