Opposition leaders have repeatedly clashed with police in Uttar Pradesh as they have tried to meet with victim's family in a case which has sparked protests across the country
6 Oct 2020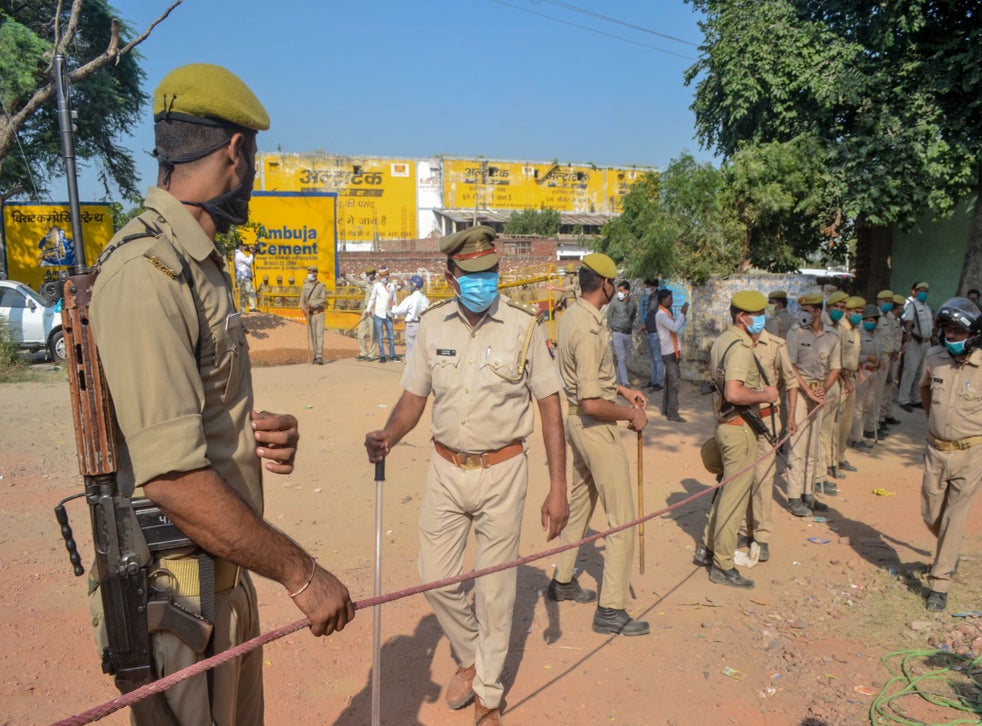 Police in Uttar Pradesh have been criticised for their handling of the Hathras rape case and subsequent political unrest
As the gang-rape and murder of a teenager from India's Dalit (formerly Untouchable) community continues to expose the fault lines in the country's caste system, men belonging to an upper caste are now rallying behind those accused of committing the atrocity.
The attack took place in mid-September in Hathras, Uttar Pradesh, where a 19-year-old woman was allegedly assaulted by four upper caste men and found in the fields, naked and bleeding, by her mother.
The victim died in hospital in Delhi on 29 September, prompting a public outcry and demands for justice. Four upper caste men have been arrested on suspicion of carrying out the attack.
However in the last couple of days members of the upper caste community, including a former state legislator from the ruling Bharatiya Janata Party, have come out in support of at least some of the accused.
On Sunday, BJP politician Rajvir Singh Pahalwan hosted a large gathering at his residence just a few kilometres away from the victim's village. At the meeting, Pahalwan accused the media of misreporting that a gang-rape took place. He said those gathered were now satisfied with the decision of the Uttar Pradesh (UP) government to have both the suspects and victim's family take a lie-detector test, while also calling an inquiry by the Central Bureau of Investigation, India's federal crime investigation agency.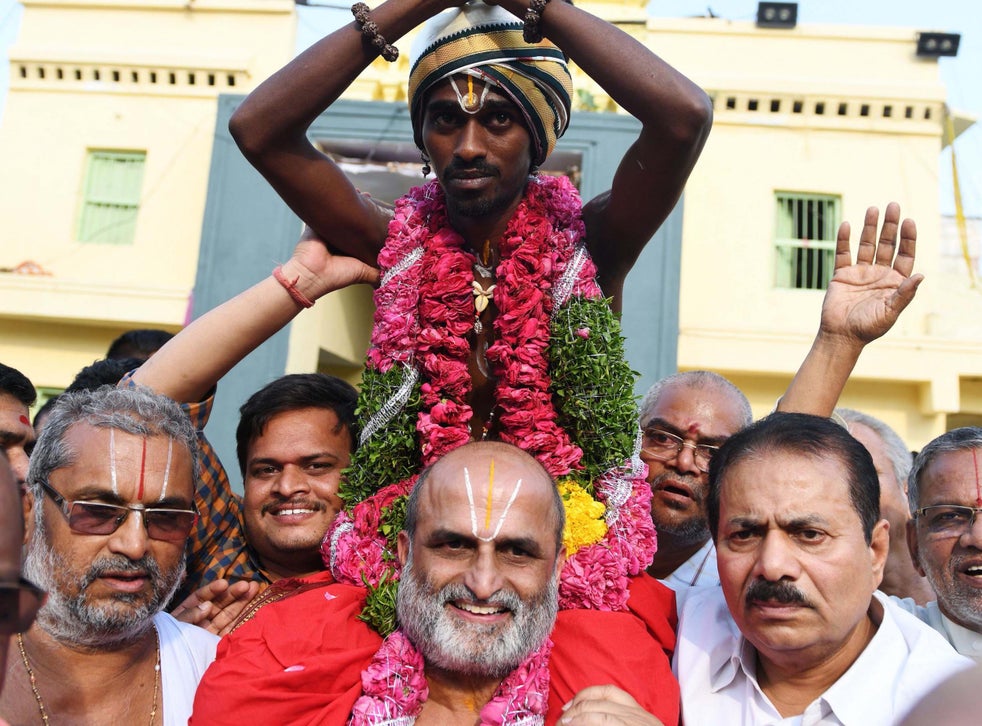 What is caste, and how prevalent is it in modern-day India?
Gang-rape and murder of Dalit woman in Uttar Pradesh highlights enduring caste divisions in Indian society
According to local media reports, Singh's son Manveer claimed at the meeting that at least two of the four accused were innocent on the basis that they were arrested at their homes and did not try to run.
Their support for the accused doesn't exist in isolation. A few days ago an association for upper-caste men, Savarna Parishad, had also voiced expressions of solidarity for the accused during meetings and rallies in the district.
Sunday's event happened at around the same time as opposition politician Jayant Chaudhary and his supporters from the Rashtriya Lok Dal party were accosted by UP's police while trying to go and meet the victim's family, mirroring an incident on Friday that saw the senior Congress leader Rahul Gandhi knocked to the ground and arrested as he tried to travel from Delhi to do the same.
The displays of support for the accused have drawn criticism from leaders of several parties. Senior Shiv Sena politician Priyanka Chaturvedi said in a tweet: "Same story from Kathua to Unnao to Hathras. Consistent support to the accused." Chaturvedi was referring to rape cases in Kathua (in Jammu and Kashmir) and Unnao (an area in Uttar Pradesh) where in each case the accused had support from a section of people including leaders of the BJP, which was in power in both those states at the time.
Dr V A Ramesh Nathan, general secretary of the National Dalit Movement for Justice (NDMJ), told The Independent that "the violence against the Dalit community, particularly against the Dalit women, in Uttar Pradesh is increasing" and "it seems that the violence is politically motivated and targeted against Dalit women by people of the dominant caste".
"The state government and central government have failed to protect the Dalit community," he said. "We demand that the state government must come out with preventive measures under The Scheduled Castes and Scheduled Tribes (Prevention of Atrocities) Act, 1989, and identify atrocity-prone zones to protect the Dalits. If necessary, Dalit women should be provided arms to defend themselves," Nathan said.
A body representing Dalits and other minorities said this week that national crime statistics show "a large proportion of crimes against Dalits and Adivasis (tribal people) involve crime against women".
They said that across India in 2019, Uttar Pradesh accounted for the highest number of atrocities against people of "scheduled castes" – an umbrella term covering historically downtrodden communities protected from discrimination by law –  of any state, the equivalent of one in every four such cases recorded in the country.
On Monday a group of nearly 200 people including professors and students of the Indian Institute of Management (Bangalore) came out with an open letter to prime minister Narendra Modi condemning the gang-rape case and demanding justice for the victim, alongside assurances that her family will not be intimidated. They said that in addition to the accused they also seek punishment for those who seek to bury this matter – a reference to the outcry over the victim's speedy cremation, allegedly against the family's will.
"As the heirs of Ambedkar, Gandhi, Kabir, Savitribai Phule, Basavanna and countless others who have fought for equality and our rights, we will no longer consent to this injustice. We stand together and say 'Enough!' This stops in our generation. This stops with us," the group said.