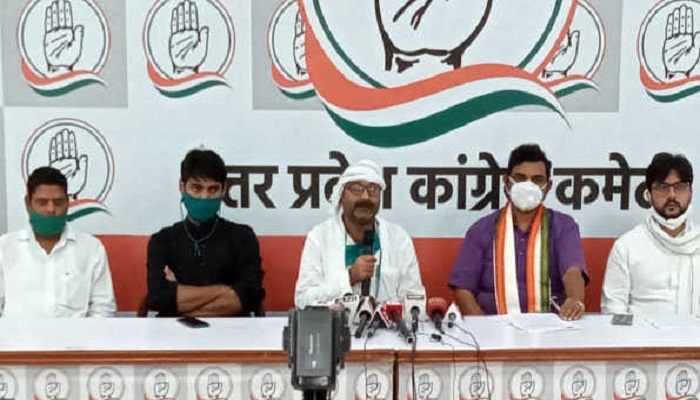 Lucknow. Uttar Pradesh Congress Committee President Ajay Kumar Lallu, while making a scathing attack on the Bharatiya Janata Party (BJP) government led by Yogi Adityanath, said that in the last three years, the state has become a hub of Dalit-backward oppression, violence and rape.
Mr. Lallu told reporters here on Tuesday that atrocities on Dalits backward in Uttar Pradesh are increasing day by day. He said that during the three years of Yogi Raj, the state has become the center of Dalit-backward violence, oppression and rape. Atrocities on Dalits backward are increasing day by day.
He said that the Dalit and backward leaders in the Yogi cabinet and BJP do not have the status of ministers to raise their voice against such oppression. Dalit and backward oppressors have got protection.
69000 assistant teacher paving way, Yogi government gets big relief from Supreme Court
The Congress state president said that data from the government agency National Crime Records Bureau (NCRB) are telling that reports of atrocities on Dalits are being reported in 33 cases every day in the state. The promises made for the protection of Dalits and OBCs in the resolution letter are proving to be hollow.
Uttar Pradesh Congress Scheduled Castes Department Chairman Alok Prasad said that in the state level meeting of the department held recently, a condemnation proposal has been passed on the rising violence, rape and harassment in the state. He said that more than half of the total recorded cases of oppression of Dalits are from Uttar Pradesh.
Mr. Prasad said that the UPCC Scheduled Caste Wing will launch a movement and raise the voice of Dalits and backward on the increasing cases of atrocities, violence in the state. He shared details of atrocities against weaker sections of society from all districts.
'Operation Clean' in UP: Criminal arrest of criminals on instructions of CM Yogi
He said, 'Dalit girl was raped in Ambedkaranagar. In Meerut, a Dalit girl and her father were murdered just two days before their wedding. In Kanpur, a Dalit youth was beaten and sent to jail. In Amroha, a 17-year-old youth was murdered for entering a temple, 'he said, adding that the Azamgarh BJP unit chief had systematically tortured Dalits of Uberpur village.
Scheduled Caste Department Vice President Tanuj Punia said that the Dalit-backward laborers engaged in the largely unorganized sector had to lose their jobs in the Corona disaster. This employment is the source of his major income. In such a situation, governments should immediately announce an economic package for the Dalits and the backward.
He said that 'most of the Dalits were either landless or had very little land and had no other source of income other than daily wages, which were lost due to the Corona epidemic. As a result, they are on the verge of starvation.