Publish Date:
Mon, 16 Nov 2020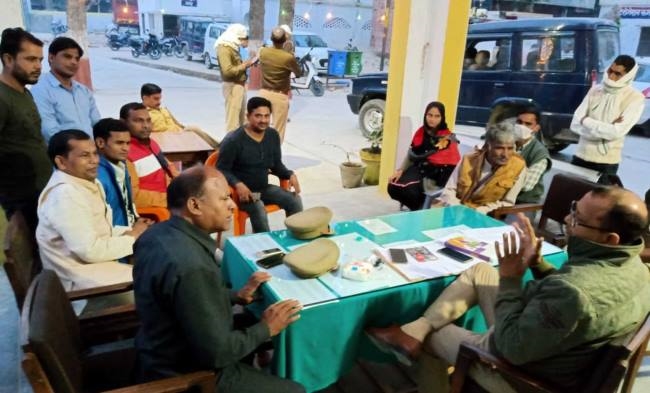 Hasanpur: Mischievous elements have made the video viral using vulgar remarks and caste words on Dalit society. On seeing this video, people of Dalit community reached Kotwali under the leadership of BSP District President Sompal Singh. Also, condemning the incident and demanded strict action against the culprits. The police have registered a report and started searching for the accused.
In Tehriar, given by Hasanpur resident Naval Kumar, it has been said that people like Sonu, Prempal, Rajpal, Bunty, Yogesh and Arvid resident of Hasanpur, village Diwali Khalsa, watched the video on social media on Sunday morning. In the video, some youth were calling casteist words to the Dalit society. People of the society reached the police station after watching the video. Police have started investigation by registering reports against Rahul, Vikas, Shobharam, Devraj and Riku residents Diwali Khalsa, Uttam Saini and Happy resident Shahpur Kala and two dozen unidentified people in relevant sections.
On the other hand, when the matter came to notice, BSP district president Sompal Singh, husband of Hasanpur chairman Shadab Tata, Ambedkar Vikas Manch president Mahendra Singh Arya etc. reached Kotwali. He demanded the police to take strict action against the accused. Senior Sub Inspector Sanjay Kumar said that the entire case is being investigated by filing a report on the basis of Tahrir. Police roamed in Dhoria Birla
Gajraula: Police of Brajghat were stationed in village Dhoria Birla after the video went viral making objectionable remarks towards Dalit society in village Diwali of Hasanpur Kotwali area. Because the two young men who commented in the video are from Dhoriya Birla village. The police feared that the agitated people could reach the accused's house and register a protest. Brajghat outpost in-charge Mohit Balian said that there is an atmosphere of peace in the village.