Madhya Pradesh reported 9,574 cases of atrocities against SC/ST in 2020. But only 95 cases of 2020 and 594 cases of the previous year reached a conclusion in the courts, the NCRB data reveals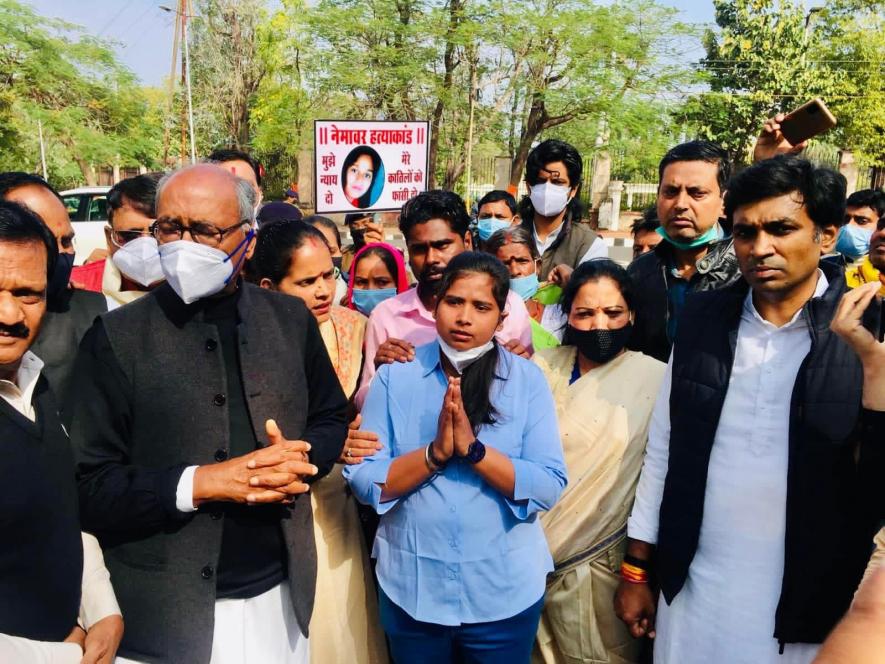 Bhopal: The pace of an investigation and trial is perhaps the benchmark of the efficiency that the public wants to see from the police, which is what the political executives promise to deliver when cornered over high-profile cases. But six months after the Nemawar mass-murder case, which created a political storm in the state, the victim's family had to set off on a 200-km Justice March.
In Nemawar tehsil of Madhya Pradesh's (MP) Dewas district, police recovered half-decomposed bodies of five tribals, including three minors, from a 10-feet deep pit on June 29, 2021. The five were missing for 45 days. Police arrested nine people for gruesome murder and demolished the homes of the main accused.
Drawing flak from various corners soon after the incident, Chief Minister Shivaraj Singh Chouhan, on July 2, 2021, promised, "Nemawar ghatna se mai bhi aahat hu. Ye apradhi nahi, naradham hai. pakad liye gai hai magar fast track court me case chala kar inko sakht se sakht durlabh saza mile isme sarkar koi kasar nahi chhodegi. Karywahi ka udaharan pesh karenge. (I am also hurt by the Nemawar incident. The accused have been arrested and the government will try to get the trial in a fast-track court so that they get the strictest of the punishment as soon as possible."
Chouhan had made these assurances to Bharti Kasdekar, a young tribal woman, five members of whose family had been killed. Unsatisfied with the probe and its delay, Kasdekar has set off on a 200-km foot march from Nemawar to Bhopal in a quest for justice. The trial has only just begun. If a case under so much public scrutiny can drag for so long, what might be the fate of cases not under the spotlight? The answer is in the government's data.
With a meagre 36% conviction rate, MP has registered 33,239 cases of atrocities against Scheduled Caste (SC) and Scheduled Tribe (ST) from 2018 to November 2021 with a steep jump of 15-20% every year, as per the data provided by Home Minister Narottam Mishra in the state Legislative Assembly on December 24 in a written reply to a question asked by Congress MLA Jitu Patwari.
Patwari had sought the details of the cases registered under the SC/ST Atrocities Act-1989 in the state. The number of cases registered under this Act has gone up in the state in the past two years, even in both COVID-19-induced lockdowns.
As per the latest census, the SC and ST populations in the state are 15.62% and 21.09%, respectively.
On January 11, when Kasdekar and her lone surviving brother Santosh reached Bhopal after 11 days of long Justice March to meet governor Mangubhai Patel and press the demand to transfer the case to the Central Bureau of Investigation, the governor Mangubhai C Patel, who is also a tribal, refused to meet despite the presence of former Chief Minister Digvijay Singh and senior Congress leader Sajjan Singh Verma at Governor's house.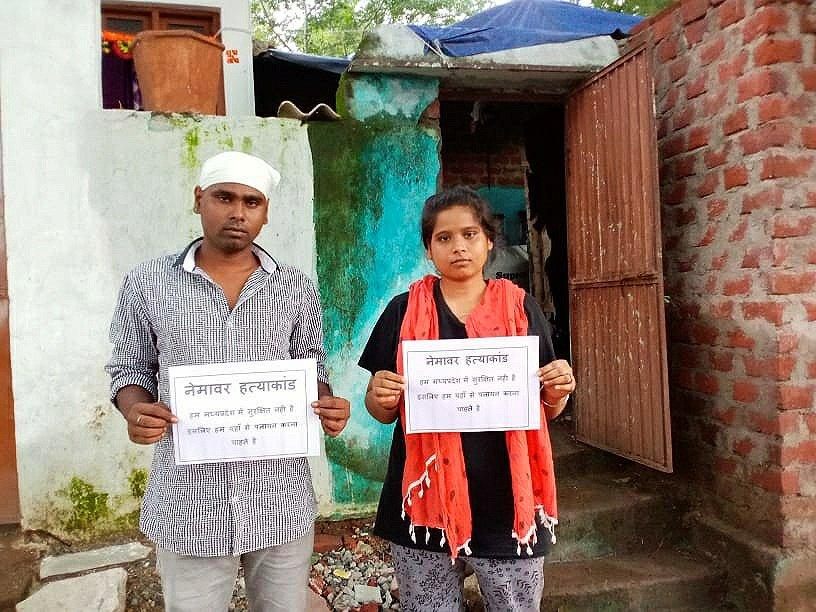 However, the Bharatiya Janata Party (BJP) government recommended the CBI probe in the Nemawar incident on December 29, soon after the victim family announced the justice march.
The BJP government's decision to recommend the CBI probe is being looked upon as a political move. The ruling BJP does not want to hand the tribal issue again to the opposition Congress.
During the past few months, the BJP government has taken many steps to woo the tribal voters– such as holding big events to honour tribal icons, renaming railway stations and institutions after them, and announcing other sops like home delivery of PDS ration in 89 tribal blocks. Both major political parties have been trying to woo the tribal community members as 47 seats in the state Assembly are presently reserved for tribals. Moreover, the community also influences poll outcomes in 26 other seats.
The Congress had made a huge issue out of the Nemawar incident and held protests right after it came to light in June. MP Congress Committee chief and former chief minister Kamal Nath had visited Nemawar to meet the extended surviving family and handed over Rs 25 lakh to the surviving family.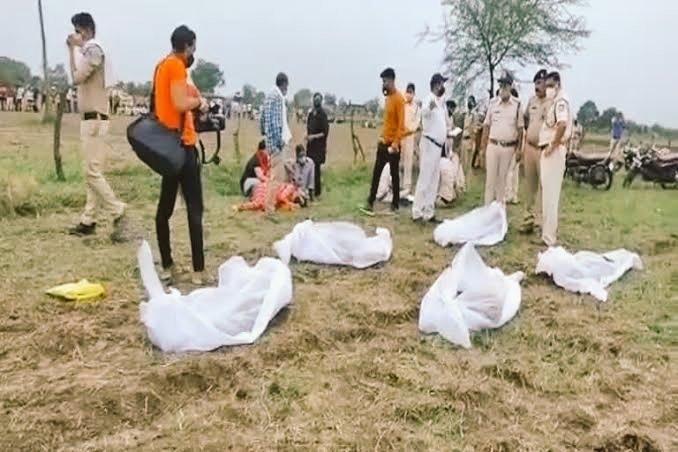 Days after the incident, a two-member fact-finding team of Congress, comprising former minister Sajjan Singh Verma and state Youth Congress chief Vikrant Bhuria, found BJP's patronage to the main accused who were also running a Hindu outfit. The main accused had been let off in earlier criminal cases, and the probe, in this case, was also delayed due to the same reasons. Many tribal and dalit outfits, including Bhim Army, Gondwana Gantantra Party (GGP), Jay Adiwasi Yuva Shakti, had held protests in various places in western MP seeking justice for the family.
The official police sources have confirmed that the Nemawar incident investigation has just begun, and statements of eight witnesses have also been recorded. "We have also called Bharti and Santosh to record the statement," said the officer.
Pending Cases and Poor Conviction in SC/ST Atrocities Cases
Nemawar incident is not a standalone incident. Recently, many cases of atrocities against tribals and dalits made national headlines. A 40-year-old tribal man named Kanhaiyalal Bheel was beaten and dragged while being tied to a vehicle in Neemuch by eight men on suspicion of theft last month. The man died at a hospital.
On September 28, 2020, a dalit youth was killed in the Guna district of MP when he refused to give a matchbox to an upper-caste man to light the cigarette.
On December 9, 2020, a 25-year dalit was beaten to death for touching food that was prepared for upper-caste men in Chhattarpur.
On August 15, 2021, an aged dalit sarpanch was assaulted and abused by caste by the upper-caste secretary in Chhattarpur for hosting a national flag before his arrival.
Many such incidents went unnoticed, and those that received police attention hardly reached a conclusion.
According to the latest National Crime Record Bureau (NCRB) data, 37,751 SC/ST atrocities cases are pending in courts- 27,449 cases related to Scheduled Caste with a 40% conviction rate and 10,302 cases related to Scheduled Tribe with a 36% conviction rate.
For instance, MP reported 9,574 cases of atrocities against SC/ST in 2020. But only 95 cases from 2020 and 594 cases from the previous year reached a conclusion in the courts, the NCRB data reveals.
"Justice delayed, is justice denied," said Anand Mohan Mathur, a 70-year-old former advocate general of MP.
"The system does not support when a case related to SC/ST occurs. The police either try to avoid registering FIR or attempt to present a different picture to save the accused. As a result, accused easily get bail in such cases."
Referring to a case, Mathur said, "A 17-year-old dalit boy was killed in Manawar tehsil of Dhar district for playing loud music in front of members of Patel community. But the police only registered the FIR after the dalit outfit held a protest outside the police station. Police turned a murder case into suicide which was brushed aside by the Indore High court. The court had ordered a CBI probe in the case almost three years ago. Since then, no one knows anything about the case."
Blaming the ruling government for the surge in cases against SC/ST, Mathur alleged that the leaders of the ruling government protect the accused of SC/ST cases. Sometimes, they even held a protest in support of the accused.
"Hundreds of tribals and dalits are behind bars in petty cases including under section 107 of the IPC (Intentionally aids, by any act or illegal omission, the doing of that thing). Neither they have legal support, nor they have money to get bail," he added.
According to a NewsClick report, close to 58% of prisoners in MP and Chhattisgarh's jails are from SC, ST and the Muslim community, according to the NCRB data for 2019.
As per the 2011 Census, the population of SCs, STs and Muslims in MP and Chhattisgarh is nearly 47%. A total of 9.58 crore people is the combined population of both states.
Commenting over it, tribal Congress MLA Hiralal Alawa pointed out that the BJP government recently ordered a CBI probe in a case related to the killing of a person named Rahul Yadav. He was allegedly burnt to death after family members of an upper-caste girl spotted them together.
"The CBI inquiry was ordered within 14 days after the incident. But, it took six months for the BJP government to recommend CBI enquiry in the gruesome killing of five tribals."
Taking a dig over the recently released NCRB data, which shows a surge in cases of atrocities against tribals, MP Congress committee president and former chief minister Kamal Nath said, "This data is nothing but a report card of 16 years of the development plan of chief minister Shivraj Singh Chouhan. During the BJP-led state government's tenure, the cases of atrocities against tribals, Dalits and women have increased by many folds. The morale of anti-social elements and criminals is high, and they do not fear the law."
However, home minister Narottam Mishra said, "The data only shows that police records every case in MP and every person gets justice in the state. Now, we are coming with the Gangster Act to curb crime against tribals, scheduled caste, women and poor people."